Prep School 2017 Exemplar Dinner
The Prep School had an Exemplar Dinner last week at the Falcon Club to honor the Prep School 2017 Class Exemplar Captain Carson G. Bird.
For the last 15 or so years, each class at the Prep School has chosen someone who "exemplifies" the type of person the class wishes to emulate and in alignment with at the Academy the goal of the Cadet Exemplar Program is to build officers with a strong foundation in our nation's and our military's heritage in order to advance into the future as a united aerospace force.
"The history and purpose behind the Exemplar Program is to provide a clear and visible attachment to the great leaders of the past for a new generation of air leaders who will face new challenges in the next millennium and beyond. The Class Exemplar serves as the honorary leader of the class, setting its personality and character."
In attendance for the evening was the Prep School Staff, the Cadet Candidates, Capt. Bird's father Michael Bird, his friends and finally his wife Brittany Bird who also happened to be the Guest Speaker for the evening.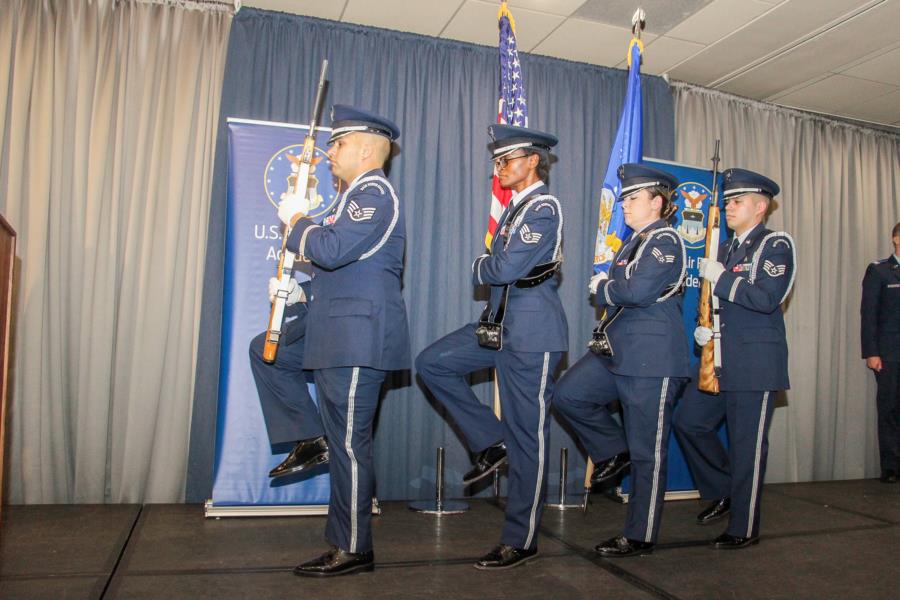 The Prep School's very own Chaplain Cobongs gave the innvocation for the evening and C/C Anthony, C/C Dye, C/C Fowlkes, C/C Leviston, C/C McGregor, C/C G. Robinson, C/C W. Robinson, and C/C Sampson sang a beautiful redition of the National Anthem.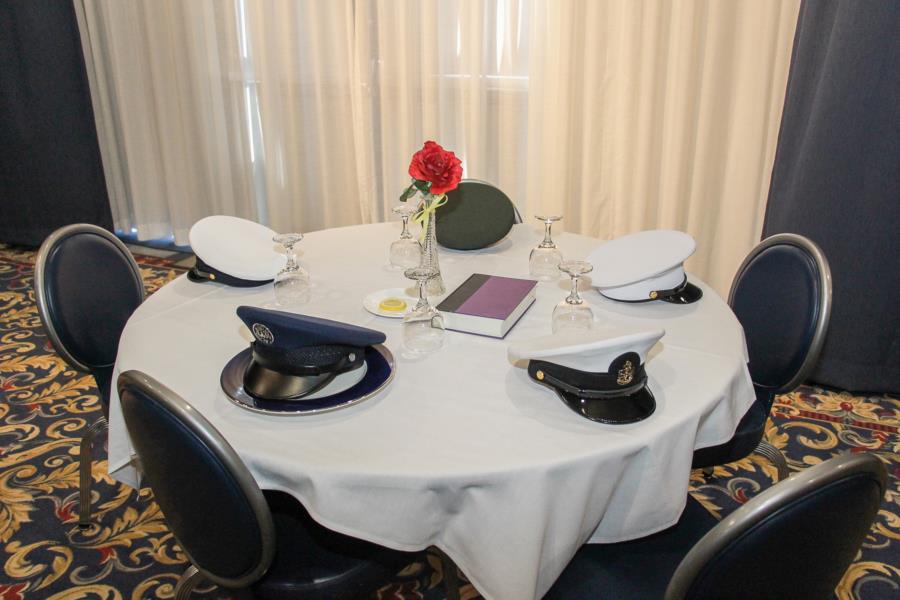 In her speech, Brittany Bird spoke about her husband's life and the legacy he left behind. She spoke about the beginning - how they met and how proud he was of his job at the Prep School and the Air Force. What it was like finding out about his diagosis with cancer and how they lived life to the fullest. She asked everyone if they could take one thing away from the night, it would be to live each day as if it were their last and to carry Capt Birds Legacy with them.
Afterwards, C/C Vidican presented Mrs. Bird with the Exemplar Plaque they put together for Capt Carson Bird which will be hung on their Exemplar Wall and gave her a smaller replica to keep. As well as giving her and his father Michael Bird their class year coin.
His plaque reads:
"PS Class of 2004 USAFA Class of 2008 Son, Brother, Husband, Teammate, Friend
Captain Carson Bird was born on May 14, 1985 in Newnan, Georgia. He attended the United States Air Force Academy and was a member of CS-09 and the graduating Class of 2008. While at the Academy, Carson majored in social science. Additionally, Captain Bird played football and was an All-Mountain West and All American selection during his time. He served as a special operations communications officer with deployments to Qatar and Afghanistan where he earned a Bronze Star and many other commendations for his meritorious actions. In 2013, Captain Bird returned to the Air Force Academy as an assistant football coach at the Preparatory School. Captain Bird served for eight years before his medical retirement in 2016. After his retirement from the Air Force, Captain Bird worked as a project manager for Hire Heroes USA helping veterans get jobs. He was diagnosed with Chondrosarcoma, a rare form of bone cancer in 2015. His cancer continued to worsen and caused his body to deteriorate. On November 26, 2016, after a faith filled battle with cancer, Captain Bird passed away. His legacy, passion and dedication to others will forever live on at the United States Air Force Academy."
To end the evening the Prep School Commander, Col Breeden gave some closing remarks and set the C/C's up for their finally act of the evening. Performing 22 Push-ups to honor Capt. Bird. Over the course of the year so far they have done over 1000 push-ups in his honor.
Here's a quick glimpse of the push-ups they did.
To view the rest of our glimpse into their Exemplar Dinner go to; Classes - Prep School - Prep Life. Or click the link below.