Prep School Bravo Blues Fitting
Families,
The focus for photos is on Bravo Squadron today. They are being fitted for their blue Service Dress uniforms. All the preppies will get new uniforms. The Priors had enlisted uniform jackets. Preppies receive officer uniform jackets which have epaulettes. Enlisted service dress jackets do not. Upon graduation from BMT they will receive their cadet candidate epaulettes like these class of 2016 preppies, which will be worn on all dress blue uniforms while at the prep school.
Ironically they only wear them these uniforms for this prep year. As USAFA cadets, they will receive cadet uniforms which are different than regular Air Force uniforms.
During "normal" years, service dress uniform fittings take place on day two of BMT in the gym. This activity is organized in a very different way. The pictures below from 2018 will give you an idea. All three squadrons are fitted for service dress items on the same day. It is a huge production.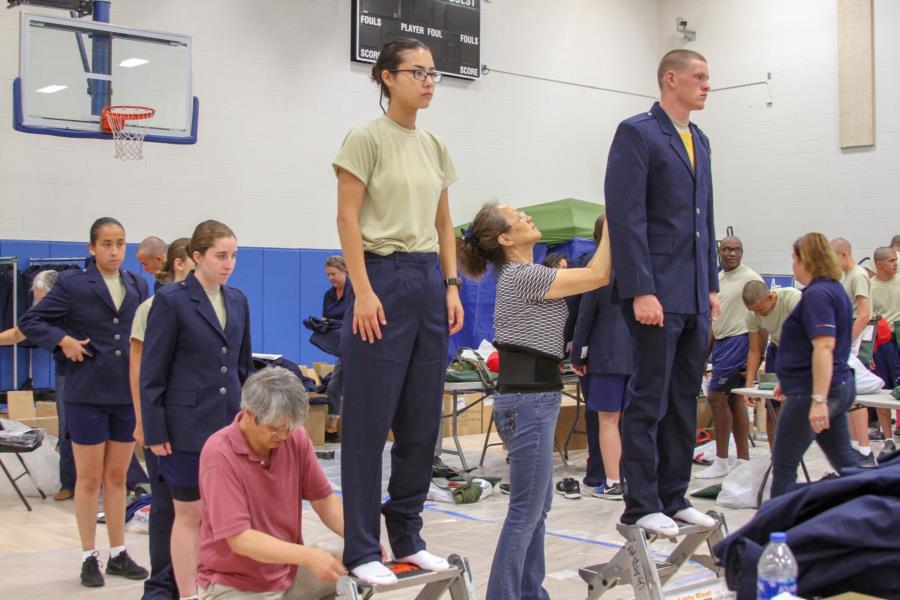 This year with COVID in mind and the trainee's health paramount, blues fitting has to be done individually with social distancing in mind. That is why it takes three days. One squadron per day.
Unless the schedule changes, Charlie should be tomorrow for fittings. Be sure to keep your phones handy as well. Security clearances are still going on and you may be getting phone calls.
I am closing this blog with a short video clip. During PT for the trainees not sports teams their is often a competiton between squadrons to build spirit and cohesiveness. Lest you think that BMT is all about marching and inspections, here is the end of one of those competitions won by Bravo. I'm not sure what the exact competion was for, I think it was doing squats.
That's it for today. Photos are up. Back with more tomorrow.