They're Back!
Good Evening Friends and Families!
It's was a rainy morning for the March Back, which is now complete. Jacks Valley looks pretty lonely now.
Here's how the morning went. It was a bit different than past years, but I liked it. The march itself was pretty much the same as past years.
What was different this year was the announcement of the outstanding basic cadets for each squadron and the presentation of the Airman's Coin. Here are some excerpts from todays post on the AOG Facebook page. It describes things better than I could.
"...The Class of 2021 marched back from Jacks Valley and assembled on the Terrazzo for a special Airman's Coin ceremony. Parents, USAFA graduates and friends were on hand to help celebrate. Two members of the Legacy Class — Class of 1971 graduates Lt. Col. (Ret.) David Keith and Capt. (Ret.) Laurence "Cass" Casada — also were on hand for the event. According to Commandant Brig. Gen. Kristin Goodwin '93, the coin ceremony was a first for the Academy. "We're all excited that this is the first coin ceremony that we are executing here at the United States Air Force Academy and that you're all a part of it," she told the basic cadets. "The cadre will present you with a coveted Airman's Coin — the beginning of the transition from basic cadet to fourth-class cadet. This simple coin symbolizes the history and heritage of our United States airmen — all of those who have preceded us." She challenged the Class of 2021 to adhere to the Academy's core values — integrity first, service before self and excellence in all we do — as each basic cadet begins their Academy journey and Air Force career. "You are our future … and you will continue our legacy," Goodwin said. ..."
Here is a photo of the Airman's Coin along with the Airman's Creed. (Courtesy of Google) I am pretty sure the Basics were presented with this same coin that enlisted airmen receive at their graduation ceremony from Air Force BMT at Lackland AFB. Pretty Cool!


During today's ceremony, eight basic cadets — one each from the eight training squadrons — were recognized as outstanding basics.
The honorees were recommended by their squadron Air Officer Commanding, cadet squadron commander and flight commander. The outstanding basics for the Class of 2021 were:
Aggressors – Basic Cadet Harrell Henderson, Jr.
Barbarians – Basic Cadet Mia Chabanne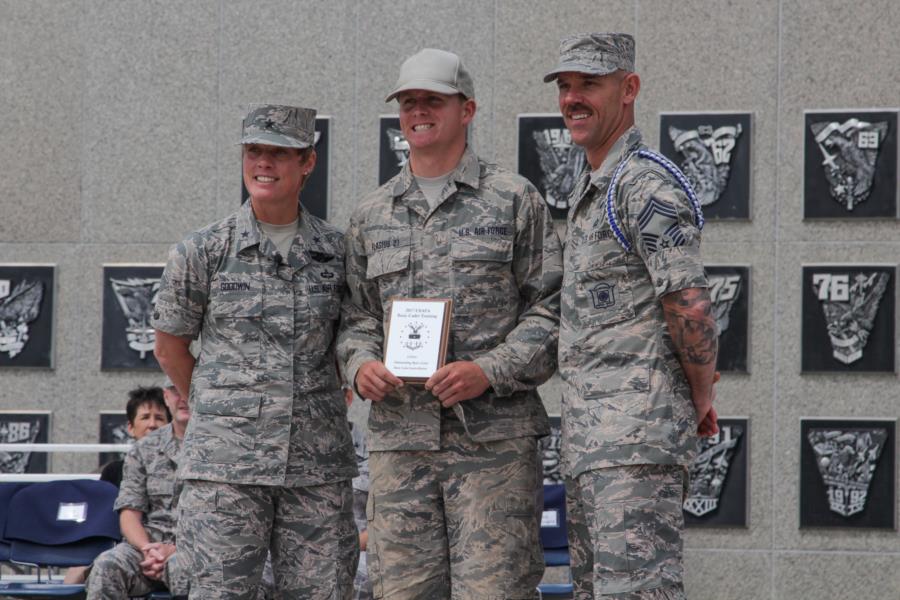 Cobras – Basic Cadet Justin Blasius Demons
Demons - Basic Cadet Campbell Harris
Executioners – Basic Cadet Tanner Johnson
Flying Tigers – Basic Cadet Parker Simington
Guts – Basic Cadet Benjamin Bollinger
Hellcats – Basic Cadet Gabriel Silva
Congratulations to these eight outstanding Basics, but also our Congratulations to all 1186 who completed USAFA BCT and received their Airman's Coin.
OK, That was exciting, but BCT isn't quite over yet. These Basic Cadets will remain in Basic status until after the Acceptance Parade next Tuesday. This afternoon was a four hour academic briefing, which should just be ending as I finish this blog. At least they got to sit down. I can't help but wonder how many were able to stay awake for the whole thing. ;-)
As I mentioned in last night's blog, tomorrow will be busy, but likely more relaxed. On the agenda is computer issue, a heritage tour (which we will cover) and a couple of other activities. Like in BCT-1, they will cycle through these activities over tomorrow and Saturday. Saturday is also the Commandant's Luncheon. It is much like the BCT-1 luncheon. The outstanding Cadre from BCT-2 will be recognized. In past years the outstanding Basic Cadets were also recognized, but since that was done today, I'm guessing that will not be repeated on Saturday. Whatever happens, we will be there to cover it. We are staying flexible, so you should too.
Ok, I think that is it for tonight. Enjoy all the photos from today. I'll be back tomorrow with more about the Heritage Tours and a few other items.