7th Annual New Mexico Night
USAFA recently welcomed the New Mexico Parent Club with their 7th Annual New Mexico Night. 15 volunteers from the New Mexico Parent Club came out to USAFA to make this night possible. They decorated the ballroom with everything "New Mexico" including mini hot air balloons, luminarias, New Mexico state flags, and of course aliens! There was over 125 cadets in attendance!
At check-in, New Mexico cadets received goodie bags with salsa, chips, tortillas, biscochitos, an alien and misc. coupons/merchandise. Female cadets got an extra gift in their bag which was a small piece of jewelry! As for the rest of the goodie bags they included a package of New Mexico beef jerky as the additional item. Also the guests of cadets this year received a goodie bag with chips, salsa, and biscochito.
The New Mexico themed evening provided cadets with a taste of New Mexico culture and food. The dinner was catered by Little Anita's, a New Mexican restaurant located in Denver. There was enchiladas (chicken, beef, and cheese), tamales, green chiles, tacos, sopapillas, guacamole and chips. Needless to say no one left hungry.
And for the first time ever in history…there was enough guac!!!
After dinner, cadets were brought up in groups of 6-7 to choose from various gifts on the stage. Also part of the night's giveaways were 7 New Mexico flags (a very coveted item!) and 4 large aliens that were raffled off to New Mexico cadets.
We weren't kidding about the New Mexico flags being highly coveted. This cadet has been trying to win one for years and finally did! He sported the flag the rest of the night, never letting it leave his sight.
Additionally, there was a raffle for the grand prizes which were 5 balloon rides, 1 spa package, 1 framed Albuquerque International Balloon Fiesta poster and 1 suite at the Santa Ana Star Casino. Below are the winners!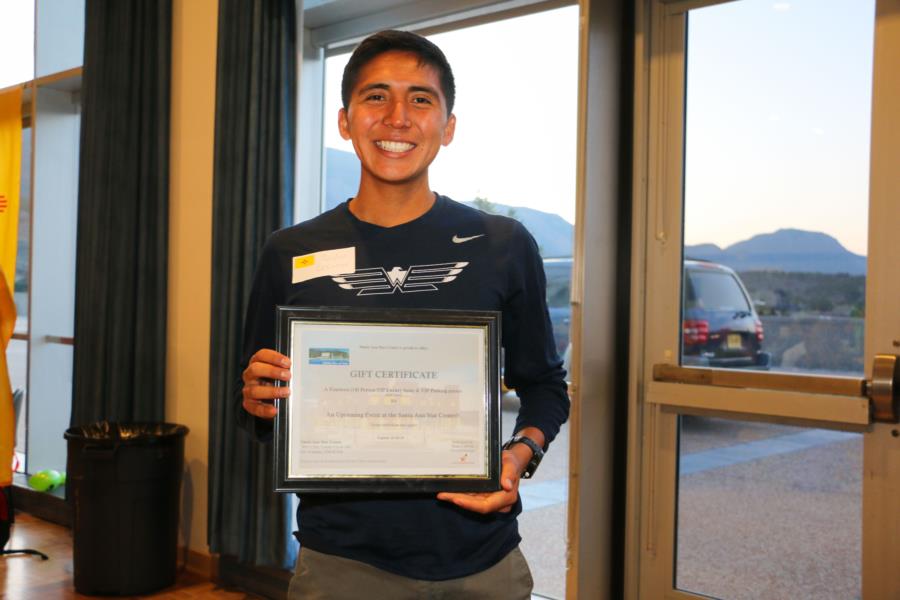 Donors for the New Mexico Night:
Albuquerque International Balloon Fiesta
Albuquerque the Magazine
Albuquerque Silver & Stone Academy
Anderson-Abruzzo Albuquerque International Balloon Museum
AOG-Blue Chile Chapter
Betty's Bath and Day Spa
Bueno Foods
Casa Verde Spa
Chick-Fil-A
Cinemark Rio 24
Cocina Azúl
Dion's Pizza
Flying Star Cafe
Frontier Restaurant
Garcia's
Golden Crown Panaderia
High Ground Associates
Hinkle Family Fun Center
Insomnia Cookies
International UFO Museum & Research Center
Isotopes
Kirtland Federal Credit Union
Manitou Cliff Dwellings
Monroe's New Mexican Food
Nambe
National Museum of Nuclear Science and History
NM Civil Air Patrol
New Mexico Pinon Coffee Company
Nexus Brewery
Ojo Caliente Mineral Springs Resort & Spa
Royal Gorge Rafting
Rudy's BBQ
Sandia Peak Tramway & Gift Shop
Santa Ana Star Center
James Tearoom
Taco Cabana
TechSource, Inc.
Ten Thousand Waves
WisePies Pizza and Salad
To view the rest of the pictures from New Mexico Night go to Galleries > Extracurricular > Special Events. Or click the link below.