2021 Exemplar Dinner
The 2021 Class Exemplar Dinner was this evening, honoring their Exemplar Brigadier General James Robinson "Robbie Risner. We will be posting the video taken during tonight's dinner tomorrow so be sure to check back for that update!
**Update: The video from the 2021 Exemplar Dinner has been posted! Enjoy!**
Since the Class of 2000, each class has chosen someone who "exemplifies" the type of person the class wishes to emulate.
"The Cadet Exemplar Program is an avenue for each Academy class to honor and identify with deceased military officers, military-associated civilians, aerospace and aviation pioneers and leaders who have made extraordinary contributions to the development of American air and space power. The program is designed to link our nation's rich heritage with the class's boundless future. An Exemplar must have exhibited integrity and character in both their professional careers and their personal lives. As such, the heroes who are chosen epitomize the personal characteristics that each class of cadets seeks to emulate."
The goal of the Cadet Exemplar Program is to build officers with a strong foundation in our nation's and our military's heritage in order to advance into the future as a united aerospace force.
The Class of 2021 shared this special event with 11 of their Legacy Class members from the Class of 1971.
The Class of 2021 heard from one of their Legacy Class members; Col (Ret) Tom Berry and the Guest Speaker for the evening was Lieutenant General David A. Deptula.
After Lt. Gen. David A. Deptula addressed the room, it was time for the unveiling of Brig. Gen. James "Robbie" Risner's Exemplar Case with Memorabilia.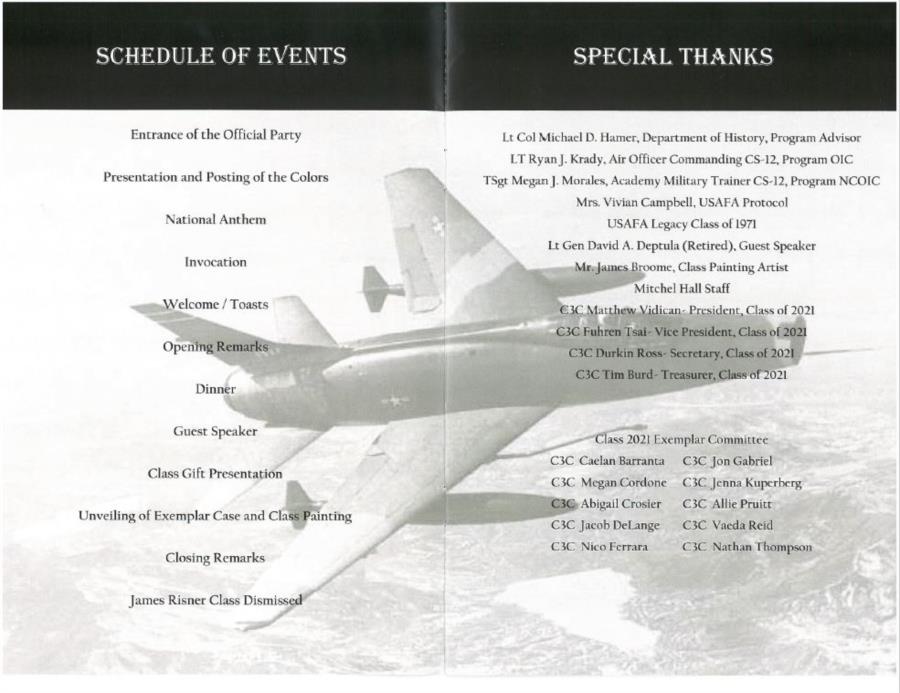 To view the rest of the pictures from the Exemplar Dinner go to; Classes - 2021 - Exemplar Dinner. Or click the link below.