2022 Graduation Awards Ceremony
Award winners will receive the beautiful Eagle and Fledglings sculpture and meet the generous sponsors who made these awards possible. Award winners and their guests were invited to attend a reception immediately following the ceremony.
Organizational and individual awards are grouped and presented by mission element; military, and academic awards, followed by the order of graduation award. Organizational awards are designed to recognize cadets for their military, academic, and athletic performance.
Military awards recognize the highest standards of leadership, character development, and military scholarship. Academic awards reward outstanding achievement in each of the four academic divisions. Athletic awards are awarded to cadets who demonstrate superior athletic achievement and leadership abilities.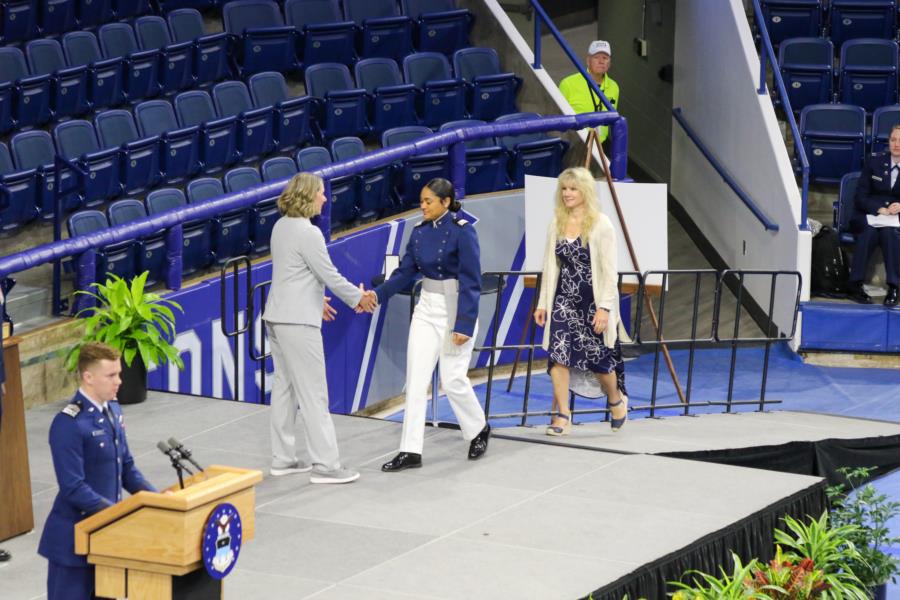 Listed below are the awards and their recipients:
| | | | |
| --- | --- | --- | --- |
| Outstanding Group Award | Outstanding Squadron Award | Drill and Ceremonies Competition Squadron Award | Military Proficiency Squadron Award |
| 2nd Group | 18th Squadron | 18th Squadron | 16th Squadron |
| Core Values Squadron Award | Cadet Summer Wing Commander Award | Cadet Fall Wing Commander Award | Cadet Spring Wing Commander Award |
| 31st Squadron | Reginald S. Maffett II | Michael D. Herrington | Kayla A. Perez |
| Outstanding Cadet Group Commander Award | Outstanding Cadet Squadron Commander Award | Outstanding Cadet Flight Commander Award | Outstanding Cadet Who Best Exemplifies the Highest Ideals of Loyalty, Integrity, and Courage Award |
| Adrienne M. Eskstein | Griffin R. Levi | Natalie M. Meyer | Abby G. Stout |
| Outstanding Cadet Honor Chairperson Award | Outstanding Cadet in Character Award | Outstanding Cadet in Character Award | Outstanding Cadet in Military Performance Award |
| Kelly E. Nugent | Cameo K. Spiegel-Saegert | Megan E. Doherty | Jessica N. Williams |
| | | | |
| | | | |
| | | | |
| --- | --- | --- | --- |
| Col. Jay B. Harrelson Award for Commitment and Service Celebrating the Outstanding Cadet in Airmanship Award | Outstanding Cadet in Parachuting Award | Outstanding Cadet in Powered Flight Award | Outstanding Cadet in Soaring Award |
| Jared B. Bachman | Corey C. Eisert-Wlodarczyk | Zachary L. Argo | Yassim Harouna Kouassi |
| | | | |
| Academic Achievement Squadron Award | Outstanding Cadet in Remotely Piloted Aircraft Award | Outstanding Cadet in Basic Sciences Award | Outstanding Cadet in Engineering Award |
| 14th Squadron | William C. Campbell | Carson D. McLaughlin | Allyson J. Burba |
| Outstanding Cadet in Humanities Award | Outstanding Cadet in Social Sciences Award | Outstanding Cadet in Academic Performance Award | |
| Eric W. Miller | Kyle M. Samuels | Kyle M. Samuels | |
| | | | |
| | | | |
| --- | --- | --- | --- |
| Intercollegiate Athletics Squadron Award | Intramural Athletics Squadron Award (Malanaphy Trophy) | Athletic Excellence Squadron Award (Superintendent's Trophy) | |
| 4th Squadron | 34th Squadron | 13th Squadron | |
| Most Valuable Athlete Award (Men) | Most Valuable Athlete Award (Women) | Outstanding Cadet, Athletic Achievement Award | |
| Adam L. Grimm | Cierra A. Winters | Scott T. Rockett | |
| Outstanding Cadet, Athletic Excellence Award | Outstanding Cadet, Athletic Leadership Award | Outstanding Cadet, Scholar-Athlete Award | |
| Riley A. Snyder | Stevan C. Fairburn | Sean R. Geither | |
| Outstanding Cadet, Physical Education Award | Outstanding Cadet, Physical Education Average Award | Outstanding Cadet in the Order of Graduation Award | |
| Ryan J. Graff | Michelle R. Roca | Allyson J. Burba | |
To view photos from the 2022 Graduation Awards Ceremony, go to CLASSES > 2022 > Graduation Week. Set your sort order from Oldest to Newest. Photos begin on page 1. You can also click on the link below: