CST Session 3 Outdoor Leadership Complex Tower - Charlie
The third and final summer session of Cadet Survival Training (CST) has begun. Charlie participated in training at the Outdoor Leadership Complex Tower (OLCT) over the weekend.
Cadets participated in the new 8-hour experience at OLTC. The focus of this experience is on challenging the self to get outside comfort zones into demanding experiences whether at height, stepping into a new role, or testing an ability in a team problem solving challenge. This occurs all while practicing, asking for, and providing support to their Airmen, as they too experience difficult events.
Cadets spend half the day at height and the other half of the day with feet on the ground. They participate in problem solving challenges as a team. There are discussions on application of insights to CST program, cadet life, and Airman Leadership throughout.
Cadets move across the "Black Widow" activity 55 feet off the ground, with the support of their Airmen. By utilizing each other, the Airmen balance the cable tensions, decreasing difficulty, while supporting each other physically and mentally.
99% of all rising 3rd class cadets will have participated on the OLCT by the end of summer. The construction of the new OLTC would not have been possible without support from the Association of Graduates (AOG).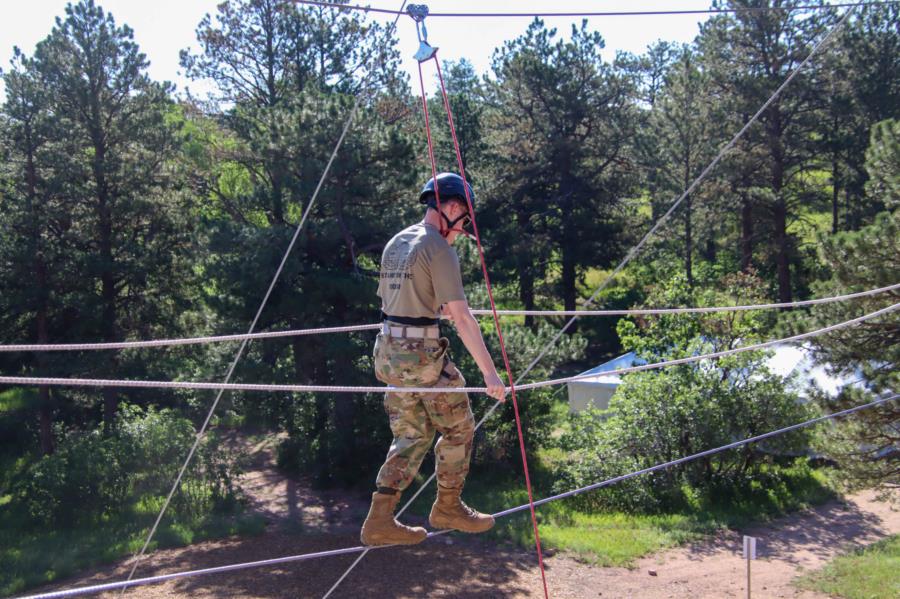 Go to GALLERIES > Summer Programs > CST. Set your sort order from OLDEST to NEWEST. Photos are from page 144 - 153.
You can also click the link below to access photos: