Wisconsin Night
The inaugural Wisconsin Night was held at Heritage House. Brig. Gen. Armacost is from Wisconsin and he graciously offered to host the first ever Wisconsin Night at his home. It was an offer too good to refuse for the Parent's Association! Wisconsin has 88 cadets attending USAFA and they had 90% attendance for the event. There were 12 parents who traveled to Colorado to help with the event. (plus a few local relatives pitched in).
Wisconsinites are affectionately known as "Cheeseheads" so they featured lots of cheese and dairy. Wisconsin is also home to Johnsonville and they donated brats for this event.The menu included: brats, mac n' cheese, beer cheese soup, cheese curds and a buffet of Wisconsin Cheeses, Sprecher Root Beer, Culver's custard, Racine Kringle, and cream puffs!
Wisconsin companies were very generous in their support of this event. Prizes included: 2 rounds of golf at Whistling Straits (home of the 2020 Ryder Cup), game tickets and swag for the Milwaukee Bucks, Milwaukee Brewers and Green Bay Packers. Summerfest admission tickets, Wisconsin State Fair tickets and swag, Foamation Cheeseheads (and tour tickets to make their own Cheesehead), other cheese themed products, Manitowoc Minute swag, beef jerky and lumberjack themed items.
List of Sponsors:
Johnsonville
Culver's ( 7660 N. Academy, Colorado Springs location)
Sprecher
Tony's Downtown Bar ( beer/cheese soup, official Packers bar of Colorado Springs)
The Cheese Haus (1380 S. 21st St., Colorado Springs)
Racine Danish Kringles
Kohler Company
Sheers Lumberjack
Foamation Cheeseheads
Summerfest
Wisconsin State Fair
Milwaukee Brewers
Milwaukee Bucks
Green Bay Packers Foundation
Advanced Disposal (donated Bucks & Packers tickets)
The Local Store (Eau Claire, WI)
JenBarb Creations
Brew City Brand
Kwik Trip
Pick 'n Save
Manitowoc Minute
Louie's Finer Meats
WAFAPA Members
Dean Foods
Stone Creek Coffee
Manitowoc Minute
Louie's Finer Meats
WAFAPA Members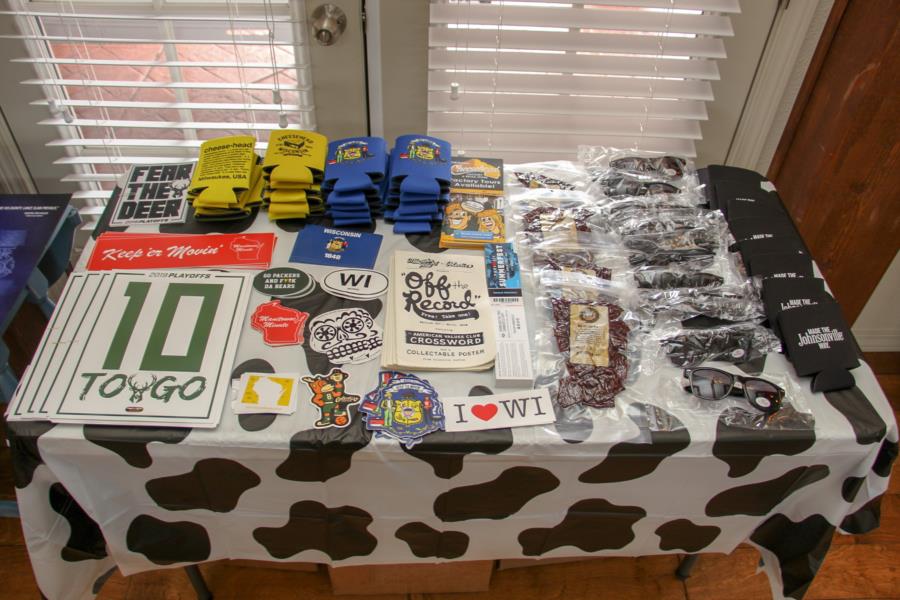 WAFAPA (Wisconsin Air Force Academy Parents Association) had a great time putting together this first ever Wisconsin Night. They are very grateful to Brig. Gen. Armacost and his wife Kathy for hosting this event at Heritage House. The cadets had a great time dressing up in their favorite Wisconsin spirit wear, polka dancing and playing corn hull, and had a cream puff eating contest! The highlight of the night was challenging Brig. Gen. Armacost to a game of ping pong on the table he won during his appearance on the Price is Right last year. No cadet has ever beaten him at ping pong.
To view all the photos from this event go to, Galleries > Extracurricular > Special Events or click on the link below.