Sweet Home Alabama Night!
USAFA welcomed the Alabama Parent Club last night with their 1st Annual Sweet Home Alabama Night.
They gave out door prizes and socks made in Alabama to each of their Alabama Cadets and their guests. The prizes were from many businesses throughout Alabama - Golden Flake, Heaton Pecan, Chick Fil-A, and Walmart to name a few.
The Alabama Parent Club currently has 49 Cadets at USAFA and 3 C/C's at the Prep School - all but 10 were in attendance. Fun Fact from the evening - all of the Cadets in the class of 2019 were in attendance and received extra prizes because of it!
They had so many decorations all over Arnold Hall Ballroom! All of the flags hanging up were given to the Cadets to take back to their Dorms.
The food for the evening was catered by Front Range BBQ, a local restaurant owned by two brothers from Birmingham, AL and they also had gourmet popsicles from Frio's (Gadsden, AL), Bud's Best Cookies, sodas and water from Buffalo Rock and Milo's tea with souvenir cups. We have to say, the food was delicious and so was the Banana Pudding. Yum!
The Cadets got to see a video from Rick & Bubba and others thanking them for their service and welcoming them to the 1st Annual Alabama Night.
The big prizes of the evening were raffled off; a football signed by Guz Malzone from Auburn University, a football signed by Nick Saban of the University of Alabama, a football signed by the University of Alabama football team, and a helmet signed by Nick Saban.
Cadets, Preps and their guests enjoyed playing pantyhose bowling which we happened to catch on video - enjoy!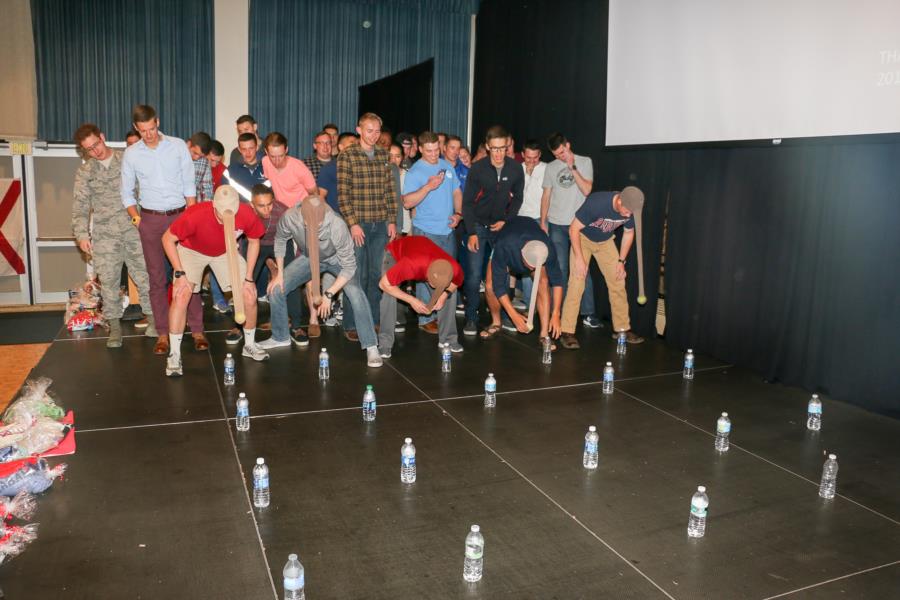 The winning group!
The Vice Commandant of Cadets, Col Price, the Vice Superintendent Col Harris and several other staff members were also in attendance for the evening.
The Alabama Parents Club wanted to give a special thanks to all of their Sponsors for the evening.
To view the rest of the pictures from Alabama Night go to; Galleries - Extracurricular - Special Events. Or click the link below.