An Evening with the Commandant: A Leadership Dinner
This week the Commandant invited Cadet Squadron 3, Cadet Squadron 8, the Soccer Club, and the Sailplane Racing Team to her house for an Evening with the Commandant: A Leadership Dinner.
This dinner gives cadets firsthand experience at social decorum and going to your "boss's house." The cadets learn simple things like which side your name tag should go on; it is the right hand side in case you were wondering. Also cadets learn how to go through a receiving line. Throughout the night they are encourage to speak to new people and permanent party. This is very important because in the Air Force, airmen might not know everyone on their team like they did in their cadet squadron so being able to interact with new individuals is an important skill to have.
As part of Social Decorum and the Leadership Dinner, cadets dress up for the occasion!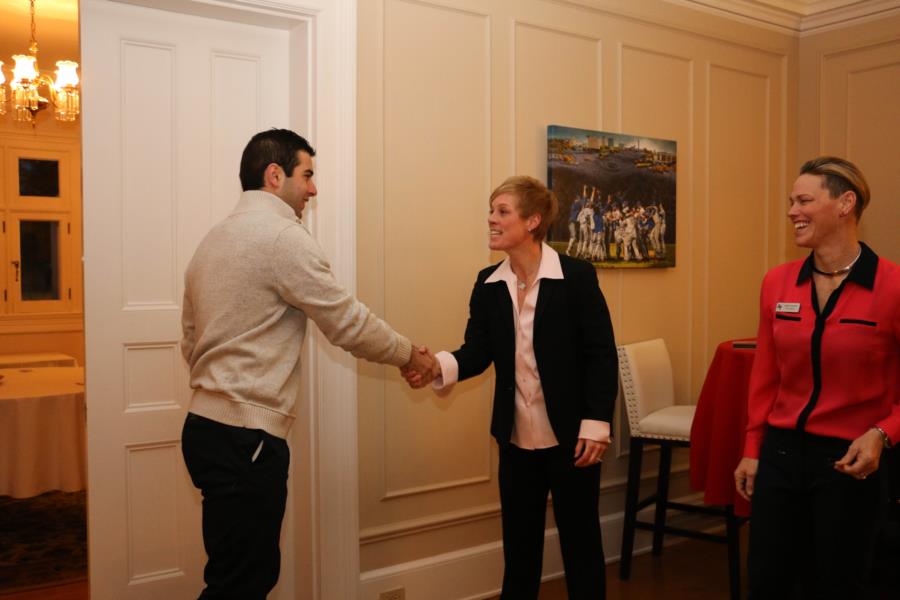 Cadets and guests are greeted by Brig. Gen. Goodwin and Mrs. Goodwin as they enter the house. This is also known as the receiving line.
Brig. Gen. Armacost and his wife Mrs. Armacost were also at this week's dinner representing the permanent party!
As part of the night's agenda, each Squadron Commander or Team Captain addresses the party and thanks their team and the Goodwin family for hosting the dinner. Afterwards they present Brig. Gen. Goodwin with a gift, as pictured above.
To view the rest of the pictures from our recent Leadership Dinner coverage, go to Galleries > Military Training > Character and Leadership Development. Or click the link below.