USAFA BCT July 4th
First off, Happy 4th of July, did you do your celebratory pull-ups like the basics?
Today we saw every squadron, this does not mean we got every single person. As stated before we have the camera evaders and the camera lovers. But there was every attempt made to get both!
The day started out early with some morning PT. After lunch they went to Arnold Hall to hear from their Legacy Class, Class of 1977.
The speaker today was Lt Col (Ret) Steven Simon, Class of 1977. He might look familiar to those of you that are fans of Heritage Minute. (We're huge fans over here at WebGuy and highly recommend you check it out! Heritage Minute Link)
Col Simon shared with the class the history of the Long Blue Line, some of his experiences and most importantly shared that his class is there for them. These stories were particularly funny:
"I am the son of an Air Force Master Sergeant. I thought I knew what I was getting into, as I'd grown up in the military. I'd spoken to my admissions liaison officer and other military veterans, including a Medal of Honor recipient who lived ibn my hometown. None of that helped. The culture shock I felt upon arrival – and that you may be feeling right now – was intense. There was SO much I didn't know.
Here's an example: Checking mail during BCT was a big deal. I assume it still is. We would go to the mail room as a group, as I expect you will. Hoping for a letter or perhaps a package was a key motivator. As we would prepare to fall out and check our mailboxes, our cadet cadre would tell us that, if there was a pink slip in our mailbox, we were to give it to them immediately. I was so clueless that I was horrified about getting a pink slip, because in my mind that meant I was going to be fired. "So that's how we find out that our cadet career is over," I thought. Actually, it meant that we had a package. Last week, I checked at the Cadet Post Office and was told they now give out yellow slips instead of pink ones, so no more confusion.
That's just one instance of my naivete. Here's another. In fact, this one occurred on this very day, the fourth of July, fifty years ago. My class reported to the Academy on the second of July. I thought that was perfect. In-process on the second of July, sort of get settled in on the third, and then we would have the fourth of July off. A day of rest! Imagine my shock and surprise when the yelling and training started bright and early on July fourth. On a holiday! The fireworks that day were not in the sky. Yeah, some hard-earned lessons."
He shared the importance of classmates and leaning on them in times of need and in the future fellow officers and enlisted leaders.
He concluded: "Again, on behalf of the members of the United States Air Force Academy Class of 1977, I welcome you to the Academy and to the distinguished ranks of the Long Blue Line. My classmates and I are keenly interested in your journey and your success. We look forward to joining you at many of your milestone events, including the acceptance parade next month, recognition, your exemplar dinner, your commitment dinner, your ring dance, and, of course, your graduation. And while it doesn't seem possible now, before you know it you will be throwing your hats in the air at Falcon Stadium as the Thunderbirds roar past."
And incase you were wondering he did inform them he has yet to get a pink slip!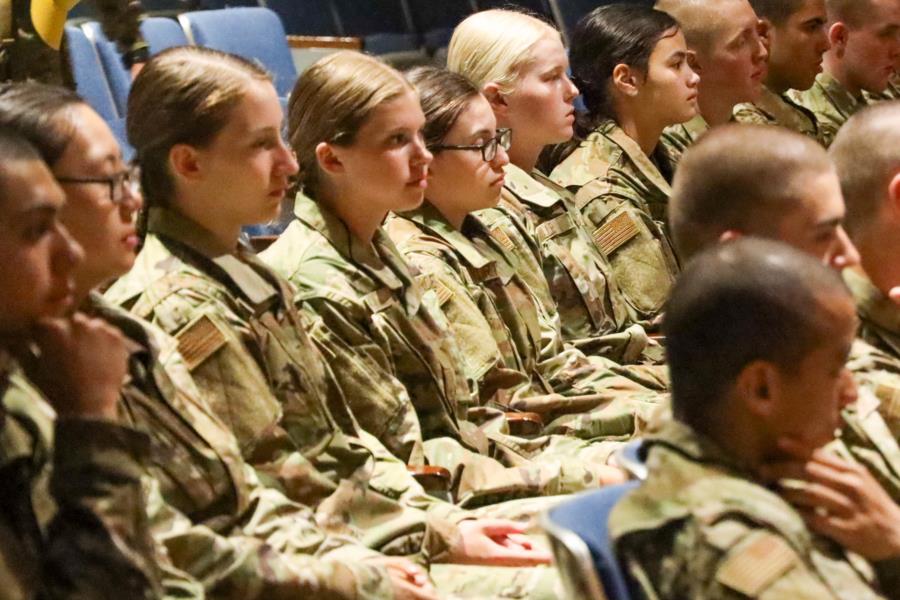 We had high hopes for more coverage however, the Colorado weather was not in our favor after the Legacy Class Speaker. We know some of you are missing your basics greatly and some squads haven't gotten a lot of specialized coverage due to scheduling. We'll see what the weather holds for the rest of the week! BCT1 is a lot like the movie Groundhogs Day. Alot of the same activities, just who does what varies a bit.
Morning PT photos are here, PT Photos, Gallery Class of 2027, BCT 1 Oldest to Newest start on page 109.
4th of July event photos are here, 4th of July July 4th has it's own gallery in Class of 2027.