2021 Acceptance Day!
Hey 2021 Parents! Acceptance Day is finally here! We are so proud of all your Cadets have accomplished so far and can't wait to watch them grow over the next 4 years.
Before the Parade began we caught glimpses of the Sabre Drill Team, Honor Guard Team and the Falconry Team.
Prior to the start of the Parade the Sabre Drill Team gave a bit of a show! Here's a quick glimpse below!
The parade began with everyone marching onto the field. The Class of 2021 lined up along the field close to the stands, facing the Cadet Wing across the field.
Before making their way into their Squadrons, the top 8 Basics were recognized.
5
The it was time for the National Anthem and Honor Oath. After reciting the oath the Class of 2021 was accepted into the Cadet Wing! Marching across the field in the inverted-wedge formation. This formation is only used twice in parades - once when a new class enters the Wing, and once more when the graduating class leaves the Wing in their graduation parade.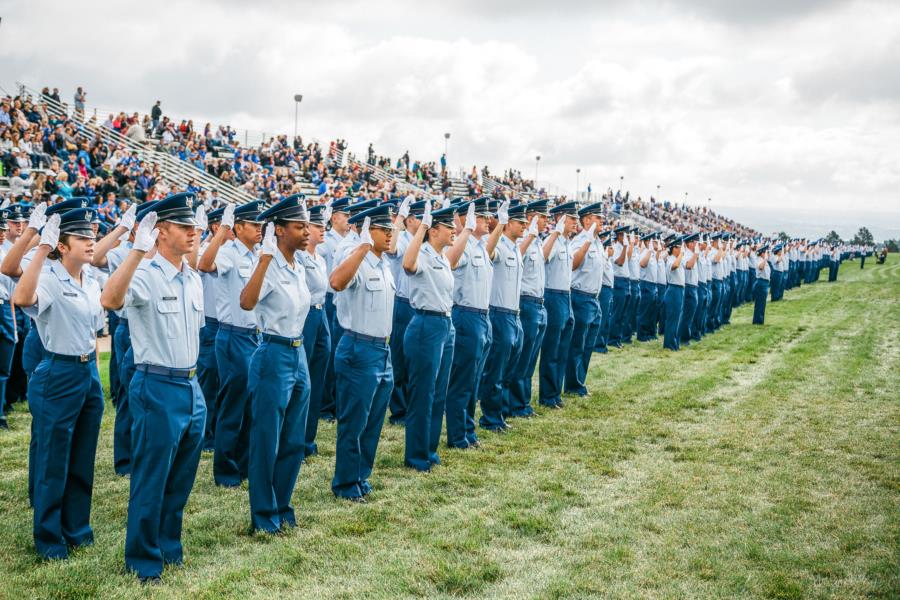 Photo Credit to the Association of Graduates Communications Department (Above)
After joining their Academic Year squadrons, as a Wing they recited the Airman's Creed.
Finally, it was time for the last portion of the Parade, the Pass and Review. Each squadron conducts a Pass and Review around the field for the Staff Leadership.
Following the conclusion of the parade, familes rushed out to the field to see their newly minted Fourth Class Cadets.
Congratulations Class of 2021! You did it!
To see the rest of the pictures taken from today's Acceptance Day Parade and Picnics go to Classes - 2021 - Acceptance Day. Or click the link below!