Cadet Vehicle Winter Check
Winter showed up full force in Colorado over the New Year. The Association of Graduates held a Cadet Vehicle Winter Check for all cadets returning from their Holiday break on Monday afternoon from 1-4pm at Doolittle Hall.
The vehicle check included checking of coolant, oil, tire pressure and tire tread. Michael Tyler, '99 Graduate and the Owner of Christian Brothers Auto Repair, his employee Mike Mellazo, and staff from Doolittle Hall volunteered their time to help cadets make sure their cars were ready for winter driving. The cadets were able to leave knowing their cars were safe and prepared for icy and snowy roads and they had the opportunity to enjoy some hot chocolate and cookies while they had their cars inspected.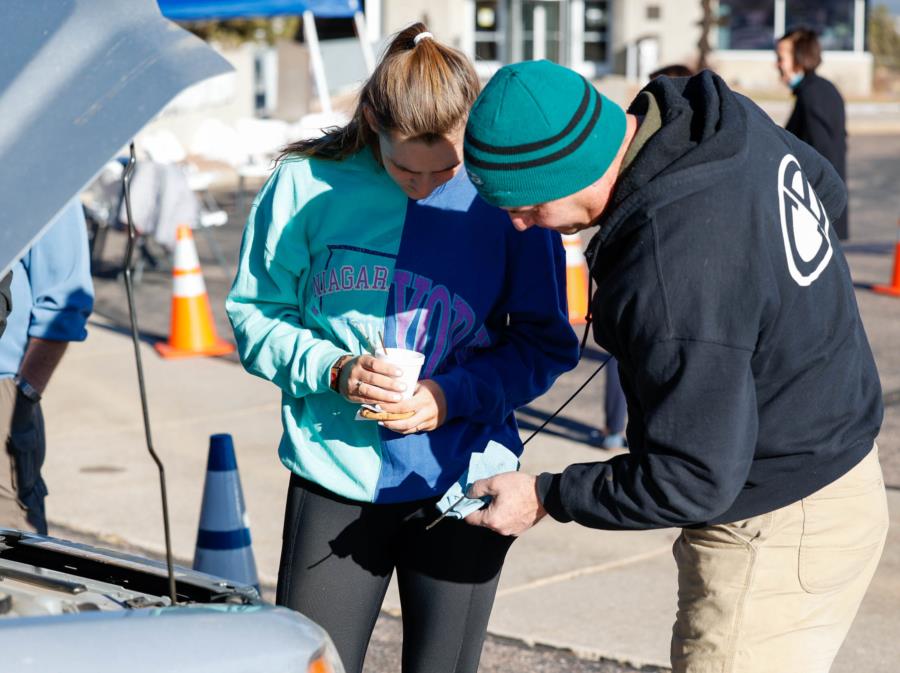 Thank you to the AOG for sponsoring this very informative event for cadets. Thank you to Mark Hill, AOG/Foundation President, Col Lukes, Vice Commandant of Cadets, David Morrissey from USAA Insurance, and other USAFA Class members for coming out to help and show their support. So many of the cadets come from states where they haven't encountered snow and ice and it is nice to know that they will have safe and dependable vehicles for winter driving.
To view photos, go to GALLERIES > Extracurricular > Cadet Life. Set photo order OLDEST to NEWEST. Select your start page or go to the link below.
***Photo order must be set OLDEST to NEWEST for the link to take you to the correct start page.
Cadet Vehicle Winter Check pgs. 99 (bottom of page) - 104 Winter Vehicle Inspection