Louisiana Night
On Saturday evening, the Louisiana Parents' Club hosted their 4th Louisiana Night. Approximately 25 Louisiana cadets brought two guests each along with 20 family volunteers participated bringing the total to 95. The current Seniors were Freshmen when they hosted their first event!
The inspiration for doing the event was mostly to bring a taste of Louisiana to their cadets that could not travel home for their traditional Mardi Gras. (Which literally means "Fat Tuesday" before Ash Wednesday (the beginning of our lent and time of fasting).
Traditional Louisiana food was served: jambalaya, gumbo, french bread, potato salad, green salad, pulled pork, King Cakes for dessert.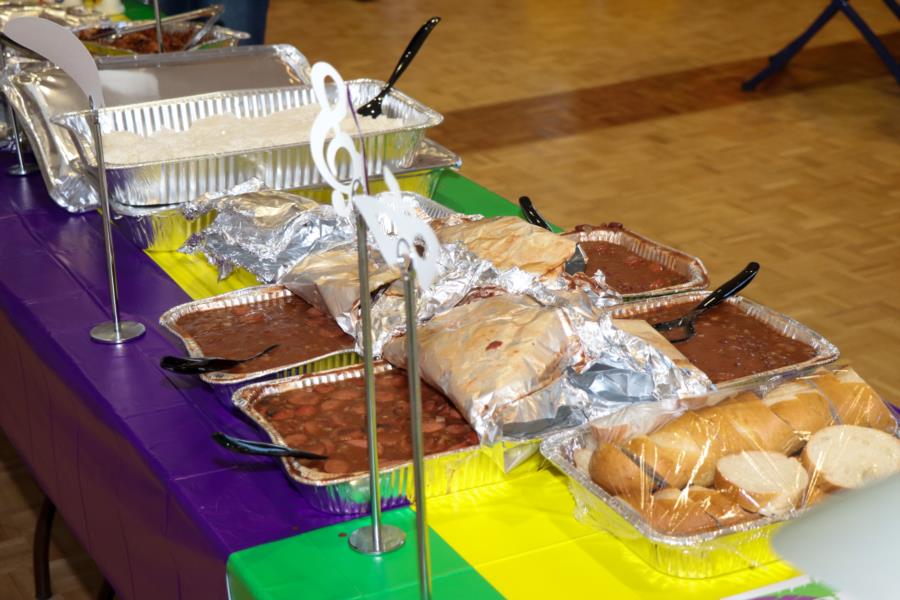 SPECIAL THANKS
Thank you to Brian and Jennifer Mo Miles for putting together one of the best Louisiana nights ever! Thank you to Larry Harris for the King Cakes and to his wife for the beautifully hand-painted Zulu coconuts. Thank you to Audrey Henry for storing all our decorations and Adrian and Marcia Bandhu for helping with the games. Thank you to the entire Wingo family and Brian Miles for the the wonderful variety of Louisiana food. Thank you to all that donated to LA night and sent door prizes. And to everyone, cadets included, on cleaning up & breaking down the decorations.
Jennifer Lewis of JenBarb Creations
Jill Gorski of Party Shirts by Jill
Louisiana Families: Chris & Charlotte Licciardi, Darryl & Jennifer Engelke, Jamie Mabile, Dave & Tina Stewart, Adrian & Marcia Bandhu, Frederick & Delveccio Brown, David & Patricia Hilton, Brian & Jennifer Miles, Natalie Fonville, Christopher & Melissa Lay, Lawrence & Angelia Grabert, Andrew & Brenda DeGraw, Dare & Jennifer Granger, Richard & Paula Guillot, Don & Amy Coppola, Jeff & Kimberley Burgoyne, Michael & Susan Broussard, Mary Aleshire, and Michael & Connie Murla.
Louisiana based door prizes: "Local" caps & tees, Mardi Gras drawstring bags, Canes tees, caps, & gift cards, Slap Ya Mama & Tony Chachere's spices, Louisiana State Night ink pens, Louisiana themed buttons, Mardi Gras ornaments, alligator jerky
USAFA related door prizes: necklace & bracelet (donated by JenBarbCreations), Gift certificate valued at $55 towards a USAFA party shirt (donated by Jill Gorski of Party Shirts by Jill)
Other door prizes: gift cards that included Amazon, Domino's Pizza, Burger King, Buffalo Wild Wings
Thank you to all that helped! They look forward to their next Fete in the Spring of 2021!!
To view all the photos from this event, go to, Galleries > Extracurricular > State Nights or click the link below.