Louisiana Night
Of the 37 Louisiana cadets honored, 33 Cadets & Preppies from all over Louisiana attended with at least 2 cadet guests. The total attendance of the evening was around 122 people!
All of the Louisiana cadets received a USAFA Louisiana T-shirt provided by David and Patricia Hilton and other door prizes such as beads and fun light up glasses. Who were also two of the four parents who put on the entire event.
Cadets from all over Louisiana attended the event. (Bossier, Houma, Laplace, Belle Chasse, New Orleans, Ponchatoula, Slidell, Leesville, Napoleonville, Shreveport, Monroe, Alexandria, Pineville, Lacombe, Jeanerette, Lake Charles, Mandeville, White Castle, Baton Rouge, Lafayette, Covington, Larose, Breaux Bridge and Ruston.) Wow!
The food provided for the evening was Jambalaya, Gumbo, two types of potato salad, bread and King cakes! None of it was catered either, it was all made by the parents in attendance!
The guest speaker of the evening was, Lt. Col. Josh Boudreaux from Covington, Louisiana. Lt Col Boudreaux is not only a 2003 USAFA graduate, he is also a former Thunderbird Pilot.
The parents that traveled to USAFA and worked tirelessly to set up, cook, decorate, clean up are: Audrey Henry, David & Patricia Hilton, and Connie Murla.
And we have to say, they did an amazing job!
The parents/families that contributed through door prizes, beads etc were: the Osbornes family, the Canaday family, the Hood family, the Henry family, the Murla family, the Hiltons family, the Paulsens family, the Lindsey family, and the Halls family.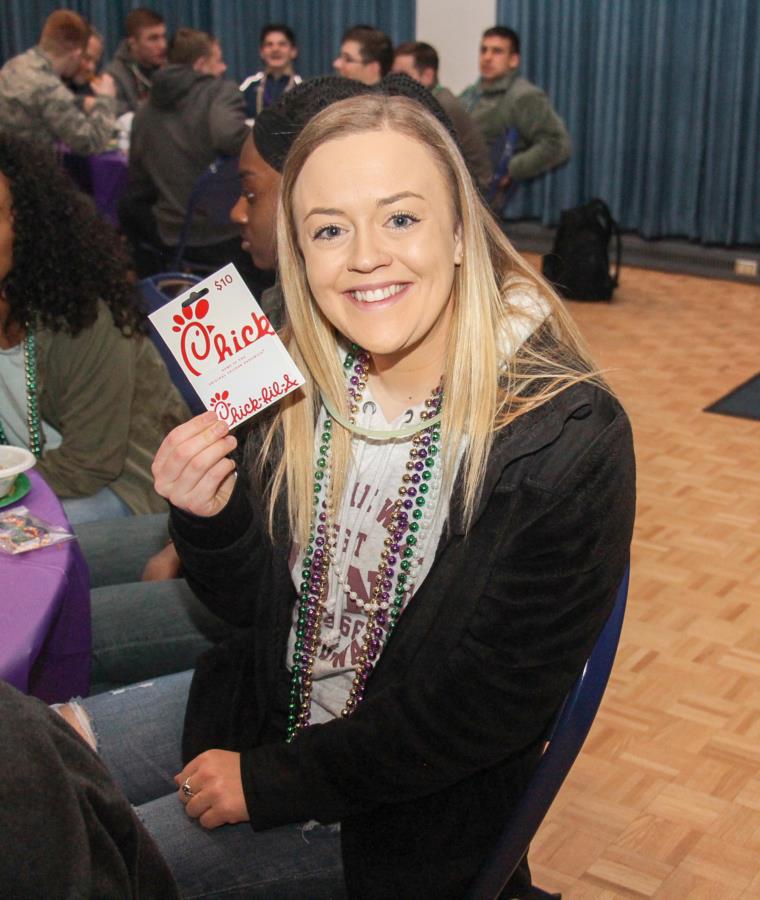 The parents who put on the Louisiana Night event also wanted to give a special shoutout/thanks to the following cadets for their help: C3C Heath Hilton, C3C Dan Veideman, C3C Hunter Reid, C3C Myles Arenson, C3C Evan Gabrielsen, C3C Noah Diamond, C3C Keith Billiot, and C2C Spencer Adolf.
'Laissez les bon temps rouler' (Let the Good Times Roll)
We can't wait to see the Louisiana Parents back here again next year!
To view the rest of the pictures from our glimse into the evening go to; Galleries - Extracurricular - Special Events. Or click the link below.