Bravo Zulu: 2019 Cadet Music Clubs Graduation Concert
Bravo Zulu was held on May 28, 2019 as a part of graduation week festivities.
The verty talented Cadet Musics Clubs performed and took time to honor their seniors. Four groups performed throughout the evening. Here is a little bit about each.
Cadet Chorale: Members of the Cadet Chorale are among the USAF Academy's official ambassadors in choral music. In addition to annual and special concerts, the Chorale performs for visiting digintaries and special civilian and militay events. Graduating Seniors include: Elizabeth Hartman, Jonathan Healey, Mikaela Pollock, Josiah Savoie, and Morgan Wagner.
Cadet Schola: Catholic Cadet Schola is modeled off a traditional Schola choir: these choirs sang Latin sacred polyphony and chant at masses in Renaissance Europe. This group is comprised of members from the Cadet Catholic Choir. They have performed throughout Colorado Springs and USAFA performing. Graduating Seniors include: Elizabeth Hartman, Jonathan Healey, Megan Langas, Rachel Russel, Josiah Savoie, and Killian Valencia.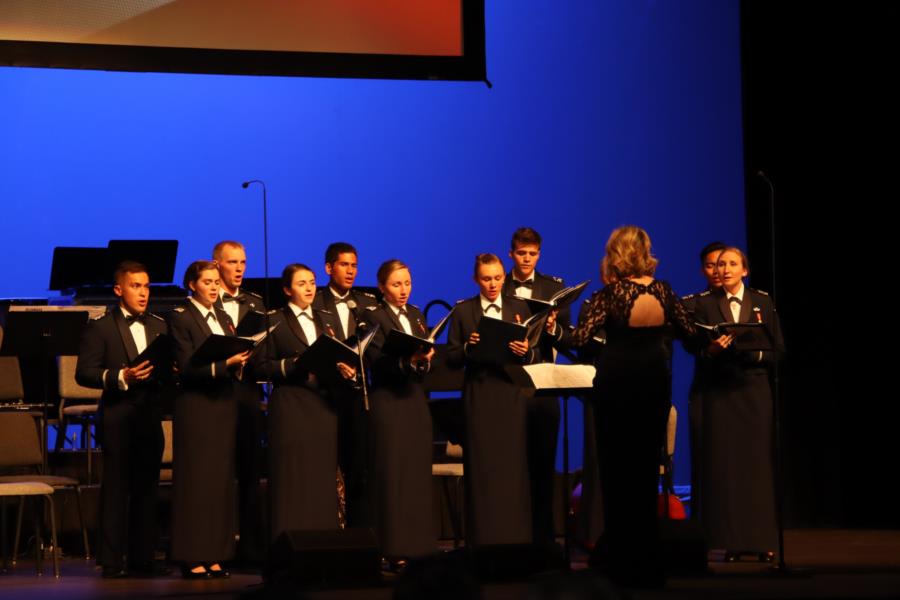 In the Stairwell: This group is the USAF Acadmey's premier all-male a cappella group. You might know them from America's Got Talent! Graduating Seniors include: Thompson A. Knox II, Josh "Jolly" Jalowiec, Kaileb Gavin Williamson, and Sean McGinty.
Cadet Orchestra: Over the years this group has grown to a full-sized symphony orchestra with the fupport of the USAFA Band. Graduating Seniors include: William Laingen and Josiah Savoie.
For more pictures from this evening head over to Class of 2019's Graduation Week folder.