Soaring M & T Days
We were down at the airfield getting coverage on Wednesday and Thursday. There was bad weather on both days. We lost coverage for Wednesday Afternoon's 3rd Go and Thursday's first Go. This is the first group to have Soaring for the academic year.
AIRMANSHIP SOARING PROGRAMS
During their fourth-class academic year, the majority of their classmates will participate in the Introduction to Soaring Program, which includes four glider flights and the opportunity for aerobatic flight. Additionally, during the summer before their third-class year, they can enroll in Basic Soaring, which consists of 14 glider sorties with the opportunity for solo flight (depending on proficiency). Graduates of Basic Soaring are eligible to apply to become Cadet Soaring Instructor Pilots (IP). Those selected complete a year-long upgrade program during the third-class academic year, earning their G-Wings and becoming the "Youngest IPs in the Air Force". Cadet IPs conduct 95% of all glider flight instruction and hone invaluable instructor and leadership skills in a flight-line environment. From Academyadmissions.com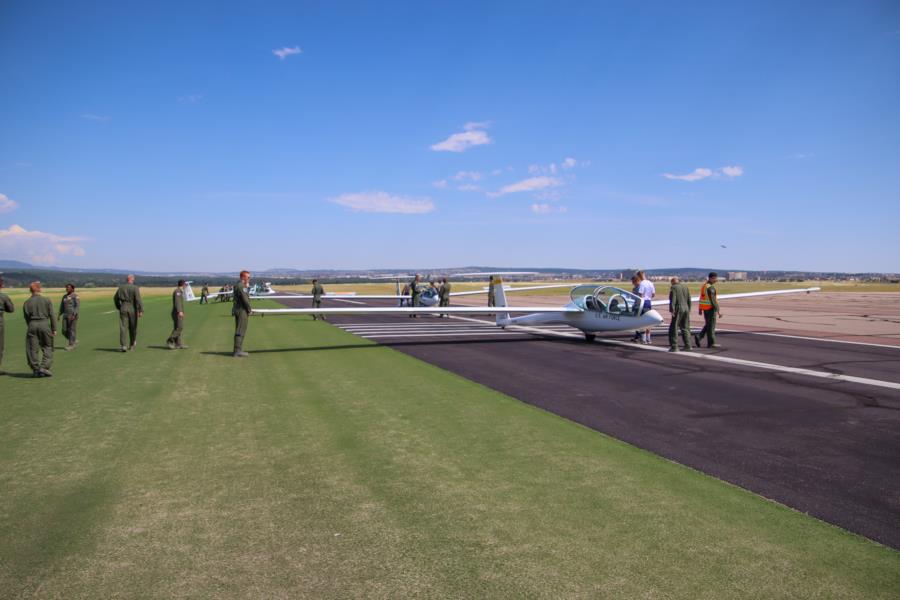 On Wednesday between morning sessions we were able to help with photo support for the Wounded Warriors who were there for a flight in a glider.
To view all of the pictures of both M & T Day coverage go to, Galleries >Airmanship > Soarin,. or click the link below.