Utah Night
USAFA welcomed the Utah USAFA Parent's Club for their 2nd annual USAFA Utah Night! There were 53 cadets and preppies from Utah in attendance, along with their guests. Cadets got the opportunity to step back in time and relight the fire within the 2002 Salt Lake City Winter Olympics.
The Olympic themed evening provided Utah cadets a night of traditional Utah food and exciting Olympic events. Approximately 15 volunteers from the Utah Parent's Club transformed Arnold Hall into an Olympic venue hosting hockey, speed skating, curling, bobsled and figure skating competitions among the cadets. Medals and fun prizes to include gift cards and outdoor sports products were awarded to cadets. Cadet favorite, Utah based, Café Rio and Village Baker catered the event. For dessert, there was Iconic green Jello, famous Aggie ice cream and Bear Lake raspberries!
Fun Fact: Did you know Utah residents are the number one consumers of Jello in the world and green Jello with carrots is one of the favorite combinations!
Cadets enjoyed some delicious Mexican food catered by Café Rio, a Utah company and Cadet favorite.
During the beginning of the evening, the "Torch" was passed from the former Utah Parent's Club President to the new Utah Parent's Club President. Really staying with that Olympic theme!
Graduating cadets each received senior gifts which included a cook book called Butter Bars! Genius gift because they will no longer have Mitch's after graduation.
Cadets showing off their raffle prizes! Pretty cool stuff!
Cadets competed in 5 different sports to win gold; there was hockey, speed skating, curling, bobsled and a crowd favorite pair's figure skating.
...every kids dream, run as fast as you can with socks on a wood floor!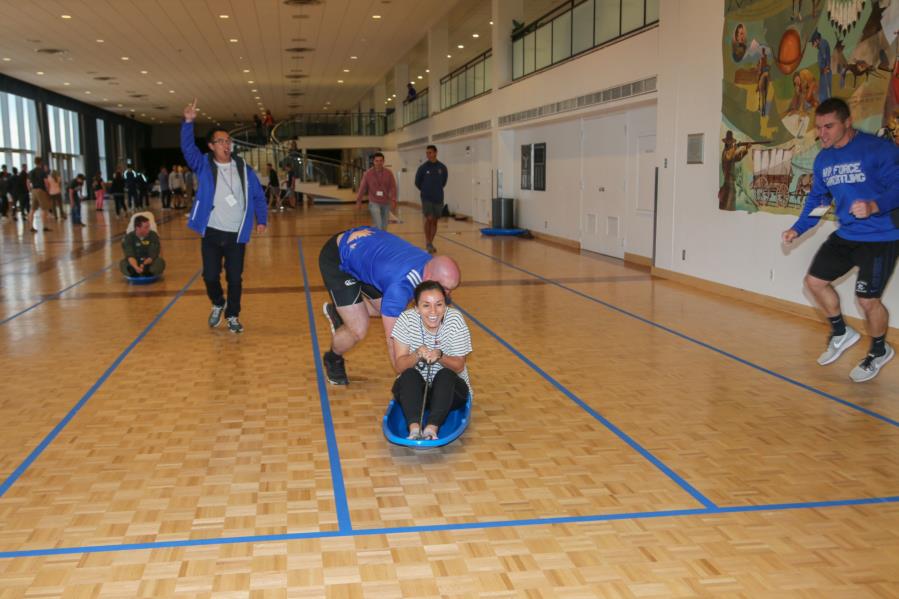 Blades of Glory has nothing on USAFA Cadets with wigs and tutus!
The Utah USAFA Parent's club would like to thank the following Utah based companies who stepped up to make this evening possible for our cadets.

AECOM
Belchem Corp
Dairy Nutrition Services
Micronutrients
Cargil/Nutrena Feeds
Aspen Ridge Outfitters
Pepperidge Farms
Gossner Foods
Theurer's Quality Meats
Ski Utah
Blender Bottle
Order Up Clothing
Utah Office of Tourism
Beyond Costal
Arctic Circle
Aggie Creamery
Great Salt Lake Yacht Club
Village Baker
Café Rio
To view the rest of the pictures from Utah Night go to: Galleries > Extracurricular > Special Events. Or click the link below.