Today's Coverage
Today was a busy day for your Cadets, before we get into what they did we want to let you know that the Squadrons we were able to get coverage of today was the Aggressors, Cobras, Executioners, Demons and Flying Tigers. Throughout the next couple of weeks our coverage will be sporatic but will add up at the end so if we didn't catch your Basics Squadron today that doesn't mean that we won't this week. So for those parents who's Basics we didn't get pictures of today, we will be getting them soon!
Today we were able to catch Cobras and Aggressors at the Tailor Shop where they were getting fitted for their blues trousers. We know what you're thinking, so soon? Yes! They get fitted for their blues during BCT for the Academic year even if they won't be wearing it any time soon that way they have it.
Agressors
Cobras
We were also able to catch Executioners at the C-Store where they were shopping for things like an iron and ironing board, toothpaste, toiletries or anything else they might need in the near future.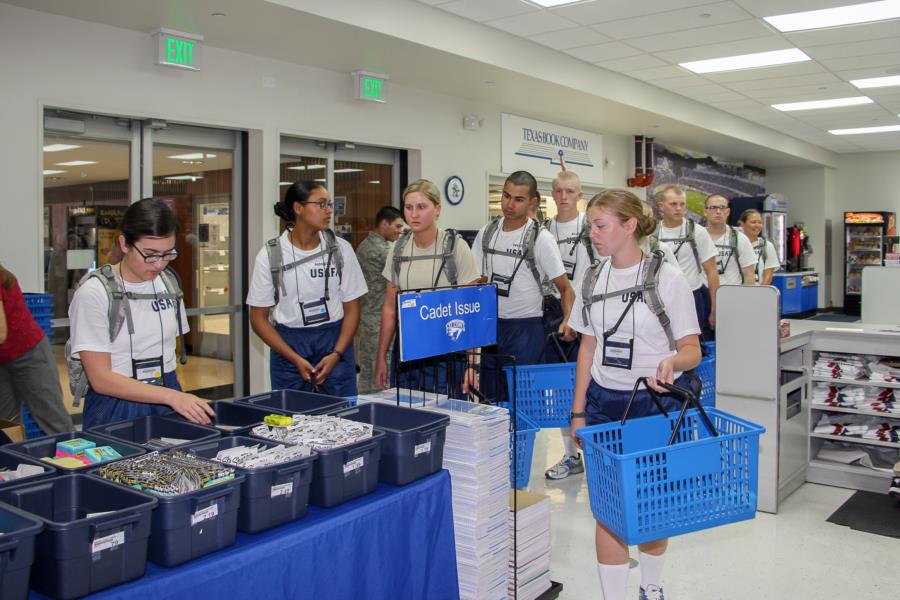 Finally we caught Demons and Flying Tigers at Doolittle Hall going through a Memorial Tour, this is something new this year that no other class before has gotten the chance to experience. They were broken up into groups, A and B Flight, C and D Flight and E Flight on it's own. They were given tours of the Doolittle Hall Library and the upstairs Atrium. The next spot on the tour was the Heritage Trail from Doolittle's Statue, across the '59 Challenge Bridge, to the War Memorial and last but not least along the route was the Southeast Asia Pavilion and the Plaza of Heros. At each location and along the route they were greeted by Grads of the Academy who told them stories and answered questions if they had any. Over the course of BCT 1 each Squadron will have the chance to come to Doolittle Hall for this tour.
Demons


Flying Tigers
Pictures are within the 2020 Class page, in BCT 1 in the Aggressors, Cobras, Demons, Executioners and Flying Tigers Galleries.
Check back tomorrow for more coverage of BCT!