USAFA Commandant Change of Command
A change of command is a military tradition that represents a formal transfer of authority and responsibility for a unit from one commanding, or flag officer to another. The passing of colors, standards, or ensigns from an outgoing commander to an incoming one ensures that the unit and its soldiers is never without official leadership, a continuation of trust, and also signifies an allegiance of soldiers to their unit's commander.
Yesterday the Change of Command Ceremony for USAFA Commandant was held on Stillman Field (named after the 1st Commandant of Cadets, Major General Robert M. Stillman). Brigadier General Paul Moga assumed command of the cadet wing from Major General Michele Edmondson.
Brigadier General Paul D. Moga
Brig. Gen. Paul D. Moga is the Commandant of Cadets, U.S. Air Force Academy, Colorado Springs, Colorado. He commands the 4,300-member Cadet Wing and more than 200 Air Force and civilian personnel. He guides military, leadership, and character development, Basic Cadet Training, and expeditionary skills training for the Air Force Cadet Wing, in addition to providing facilities and logistical support.

Brig. Gen. Moga is a 1995 graduate from the U.S. Air Force Academy. He earned his pilot wings at Laughlin Air Force Base, Texas, and went on to fly the F-15C as an operational and formal training unit Instructor Pilot. His assignments include F-22 FTU Initial Instructor Pilot Cadre, first F-22 Demonstration Team Commander, Chief of Air Combat Command's Senior Leader Management Division, the NATO Defense College, and Deputy Division Chief in U.S. European Command. He has commanded at the squadron, vice wing and wing level.

Prior to his current assignment, Brig. Gen. Moga was the Deputy Director of Operations for Headquarters United States Northern Command, Peterson Air Force Base, Colorado. In this capacity, he was the principal advisor to the Commander, U.S. Northern Command for all operational matters, providing strategic guidance to plan and execute missions within the area of responsibility; land, maritime, homeland defense air operations, defense support to civil authorities and theater security cooperation, to include the Arctic.

He is a command pilot with more than 2,600 flying hours in the F-15C, F-22 and F-35A, including more than 250 combat hours in support of operations Southern Watch and Allied Force. (Information provided by U.S. Air Force News).
The Association of Graduates Communications Department attended the ceremony and has graciously shared their photos with us.
Today, typical Air Force change of command ceremonies include a presentation of the colors, remarks by each member of the official party, passing of the guidon, singing of the Air Force song, as well as a first and last salute from both the outgoing and incoming commander.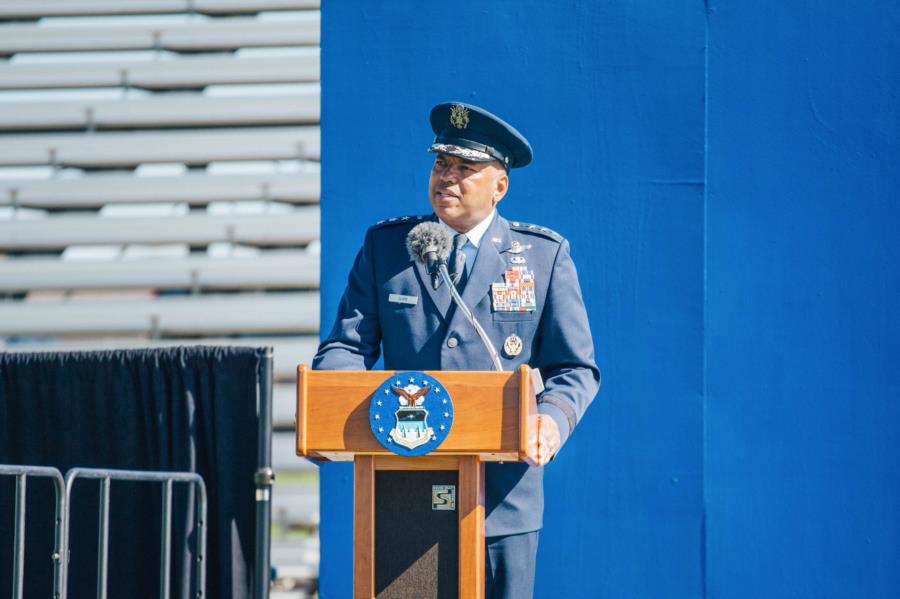 We wish all the best to Maj. Gen. Edmondson and her family as they head to Keesler Air Force Base, Mississippi where she is slated to command the 2nd Air Force.
Welcome Brigadier General Moga and family to the Academy!