An Evening with the Commandant: A Leadership Dinner
This month the Commandant had the last Leadership Dinner for the academic year. Over a span of a couple months, all the first class cadets from every squadron were invited to her home. In the last couple of weeks the Commandant invited Cadet Squadron 2, Cadet Squadron 7, Cadet Squadron 11, Cadet Squadron 12, Cadet Squadron 17, Cadet Squadron 21, Cadet Squadron 22, Cadet Squadron 26, Cadet Squadron 27, Cadet Squadron 31, Cadet Squadron 32, Cadet Squadron 33, Cadet Squadron 36, and Cadet Squadron 38 to her house for an Evening with the Commandant: A Leadership Dinner.
This dinner gives cadets firsthand experience at social decorum and going to your "boss's house." The cadets learn simple things like which side your name tag should go on; it is the right hand side in case you were wondering. Also cadets learn how to go through a receiving line. Throughout the night they are encourage to speak to new people and permanent party. This is very important because in the Air Force, airmen might not know everyone on their team like they did in their cadet squadron, so being able to step outside their comfort zone is a very important skill to have.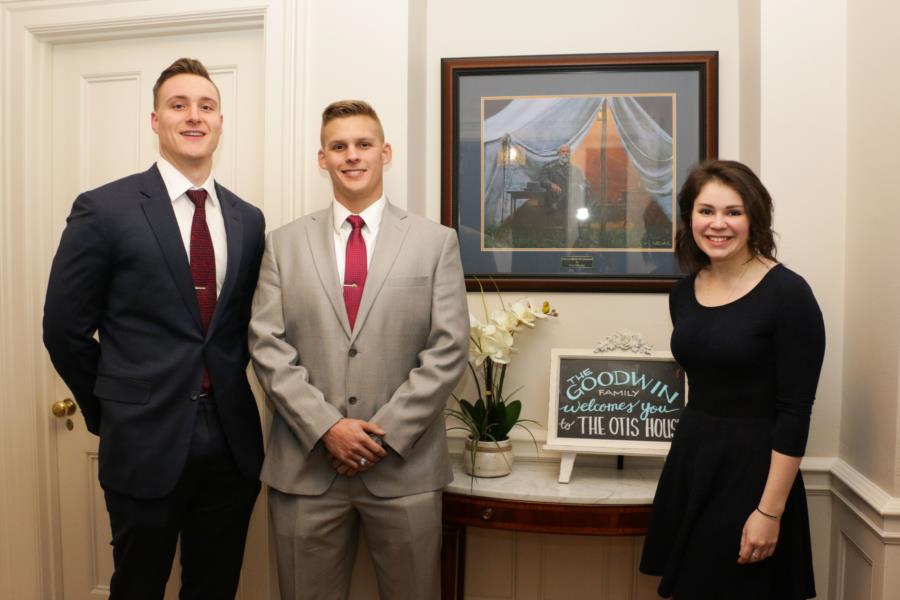 Cadets and guests all dressed up for the occasion! Part of social decorum is to dress accordingly to the event.
Cadets and guests are greeted by Brig. Gen. Goodwin and Mrs. Goodwin, as well as, CMSgt. Bouchee and Mrs. Bouchee. This is known as a receiving line.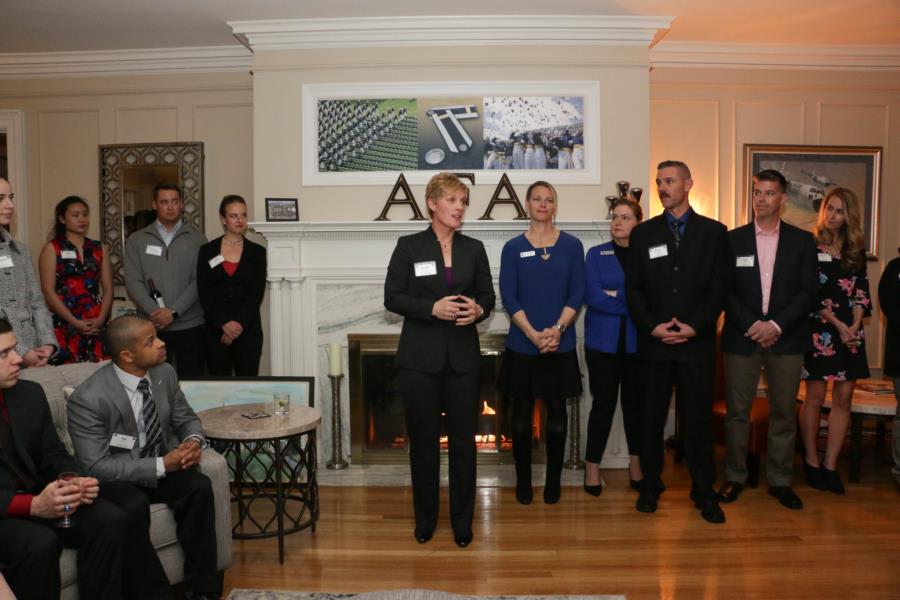 Brig. Gen. Goodwin begins the night by thanking her staff for making these dinners possible. She also introduces all the permanent party that are in attendance, as well as sharing a little history about the Otis House also known as the Commandant's house. The Otis has 11,553 square feet of livable space, making it the largest on-base house in the U.S. Air Force. The house was built in the 1870s, but back then it was just a tiny cottage. In 1955, the U.S. Air Force acquired the house along with the rest of Pine Valley. Since 1958 the Otis House has been the home to the Commandant of Cadets.
Pictured below is a cadet that actually painted the Otis House as a gift for the Goodwin family.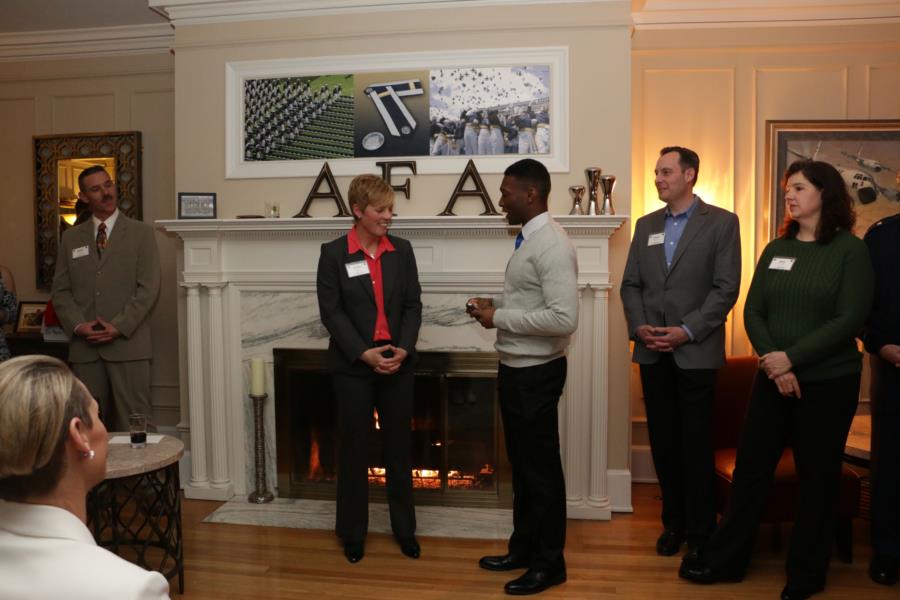 As part of the night's agenda, each Squadron Commander or AOC addresses the party and thanks their team and the Goodwin family for hosting the dinner. Afterwards they present Brig. Gen. Goodwin with a gift, as pictured above.
To view the rest of the pictures from our Leadership Dinner coverage, go to Galleries > Military Training > Character and Leadership Development. Or click the link below.
An Evening with the Commandant: A Leadership Dinner
You can also find more photos of the all the Leadership Dinners in our Public Gallery. These photos were taken by 2nd Lt. Everett Montano, Class of 2017 (pictured above).
Evening with the Commandant: A Leadership Dinner - Public Gallery