Dean's Aces & A-Team Reception
The Dean's Aces Reception is held each semester to recognize Cadets with a 4.0 GPA in their academic and physical education classes.
This month, 14 of the 17 Cadets who received the Academic Ace List honors were recognized for their 2016 Spring semester Academic achievements by Brig. Gen. Andrew Armacost, the Dean of USAFA as well as other staff.
Brig. Gen. Armacost also recognized the Academic A-Team. 28 of 52 Cadets who finished the Spring semester with a 4.0 GPA only in academic courses were in attendance.
Each A-Team Class was brought up and recognized as a group.
A-Team Class of 2020
Congratulations to C3C Zachary Bradley, C3C John Connolly, C3C Katherine Emanuel, C3C Gordon McCulloh, C3C Katherine Scheibner, C3C Josh Simpson, and C3C Karlee Xander.
A-Team Class of 2019
Congratulations to C2C Stephen Beresford, C2C Abraham Eaton, C2C Erin Nistler, C2C Ryan Ramseyer, and C2C McKenzie Rosenthal.
A-Team Class of 2018
Congratulations to C1C Ashlen Bible, C1C Brandon Cambio, C1C Dan Campesino, C1C Mike Chado, C1C Jon Clegg, C1C Tyler Despard, C1C Erich Drollinger, C1C Mitchell Embrey, C1C Courtney Kunselman, C1C Sheamus Larkin, C1C David Lee, C1C Justin McManis, C1C Bri Simpson, and C1C Matt Zabilski.
The 14 Dean's ACES Cadet's that were in attendance were brought up on their own to be recognized. Each of the Cadets had a little bio read off about them when they came up to accept their certificate. Enjoy!


"Cadet Third Class Marcus Amico. Cadet Amico grew up in Eagle River, Alaska. Outside of wrestling and school, Cadet Amico's sport of passion is fishing (fly-fishing, ice fishing, you name it)."

"Cadet Third Class Zack Bailey. At age 14, Cadet Bailey was left at a hotel in Guadalajara, Mexico, after a soccer tournament… by accident. Apparently, Cadet Bailey used to have a killer curled-up mustache… then he came to the Academy. Over the summer, Cadet Bailey helped deliver a baby at Walter Reed Hospital."


"Cadet Third Class Sequoia Chun. Prior to joining the Academy, Cadet Chun spent a year at the University of Chicago. While at the Academy, Cadet Chun was on the saber fencing team last year and am now in the soaring IP upgrade program."


"Cadet Second Class Hunter Ahlquist. Along with falling into his books every night, Cadet Ahlquist has fallen a considerable distance down two mountains… one while skiing and the other while rock climbing. Hopefully, he can pass along the lessons of hitting the books, not hitting the mountain, to his sister who is also at USAFA in the class of 2021."


"Cadet Second Class Ben Jakeman. When Cadet Jakeman was a child, he had a really thick Boston accent but never grew up in Boston. His parents thought it was hilarious. He really knahcked it outta the pahk as a first time Ace."


"Cadet Second Class Preston Roche. Cadet Roche is currently doing personal research on caffeine efficacy as a sleep replacement. Something must be working for him as this is his second time as a Dean's Ace!"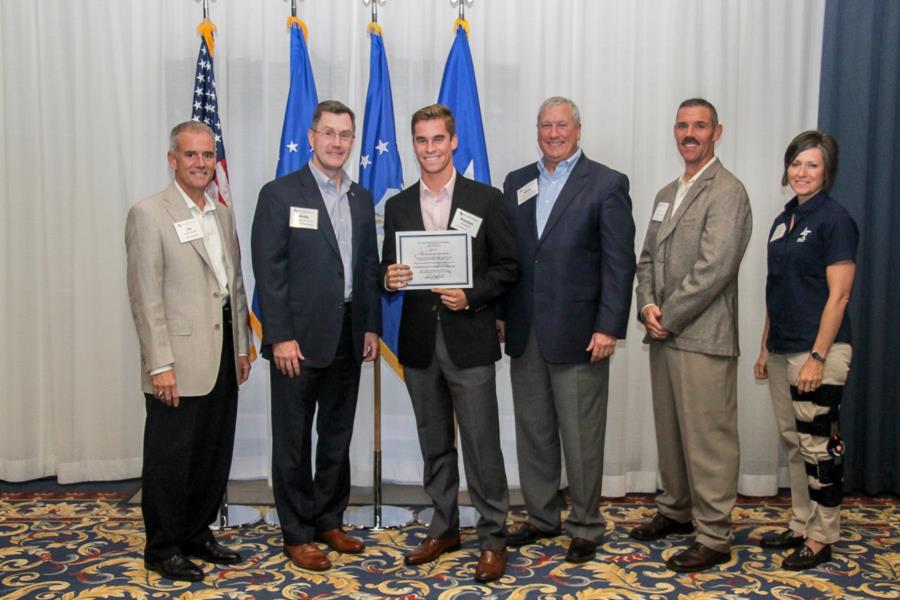 "Cadet Second Class Addison Smith. Cadet Smith is an Economics major out of cadet squadron 31. He was able to watch Steph Curry play basketball while he was in college. I hope you still get an opportunity to watch some basketball in between all your studying!"


"Cadet First Class Erik Baskin. After high school, Cadet Baskins played two years of junior hockey before coming the the Academy. Cadet Baskin's grandfather servied in the Norwegian Air Force. His other grandfather servied in the Navy."


"Cadet First Class Katie Burnham. Cadet Burnham runs cross country and track at the Academy. She's lived half her life in Boston and half in Texas. She also has 5 brothers and sisters. Hopefully we have some more future falcons joining her!"
"Cadet First Class Ben Fisher. The word must be out about Cadet Fisher as he's been offered four interviews for medical school and is still waiting responses from 9 more schools"

"Cadet First Class Justin Graham. Cadet Graham has never drank soda in his life, but it looks like he hasn't needed it to stay awake in order to be successful here at the Academy as this is his third time as an ACE! Cadet Graham has been to a Minor or Major League Baseball game in every continental state. And he already has plans to purchase a motorcycle after graduation."

"Cadet First Class Mira Marchioretto. Cadet Marchioretto, an Honor Officer out of Cadet Squadron 12, is making a name of herself as a first time Ace. She's trying to be as famous as her dog who is named Harry Potter."

"Cadet First Class David Nolan. Cadet Nolan has met former President Obama when he was in the White House. Cadet Nolan also spent 7 weeks in Washington D.C. on a political science fellowship at George Washington University. When he was not hunting his grades, he also spent some time hunting North American bison."

"Cadet First Class Michael Rieker. Cadet Reiker plays baseball for the Falcons. When's not on in the field or studying, he loves hiking, white water kayaking, and shooting."

C1C Chandler Beachy, C2C Rachel Kester, and C3C Eric Hembling were also recognized as Dean's Aces for the 2016 Spring Semester but were not able to attend the Reception.

"The Dean's Aces list was inspired by the late Brig. Gen Robert McDemott, the first Dean of the Faculty at the Academy. The General, for whom the Academy's McDermott Library is named, is often referred to as the "father of modern military education" for his contributions to the Academy's mission of educating and developing leaders of character."
To view the pictures from the Dean's Aces and A-Team Reception; go to Galleries - Academics - Academic Studies. Or click the link below.