And just like that BCT 1 becomes BCT 2
After the excitment of the Rodeo, the Basics came back to meet their new Cadre and thus BCT 2 begins!
Time flew through BCT 1. We covered a lot but here are a few things we didn't cover. These pictures are from past years.
AFT:
The AFT, otherwise known as the Aerobic Fitness Test was ran by all squadrons this morning. In order to complete 1.5 miles they had to run roughly 9 laps, and at the end of each lap Cadets must hold up their hand to show the number of laps they are on until they have completed the run.
The AFT is scored as follows:


Event
Men
Women
Mean
Max
Mean
Max
1.5-Mile Run
11:15
7:45
13:31
8:55
PFT:
During the academic year, cadets take physical fitness tests each semester to measure their overall strength and conditioning. Proficiency is required in both the Physical Fitness Test (PFT) and the Aerobic Fitness Test (AFT) in order to graduate. This test is different from the Candidate Fitness Assessment (CFA) that they took when applying to the Academy.
The fitness-testing program serves many purposes, including:

Promoting maximum fitness among the cadet wing
Developing a foundation for a lifetime of fitness
Recognizing cadets who excel in maintaining their personal fitness

Those members of the cadet wing who achieve the maximum point total on either the PFT or AFT belong to the prestigious 500 Club. Those few cadets who maximize their scores on both of these belong to the exclusive 1000 Club. Below is a table with the test elements along with the mean and maximum possible scores, courtesy of www.academyadmissions.com.
Event

Men

Women

Mean

Max

Mean

Max

Pull-Ups

12

21

3

8

Long Jump

7'7″

8'0″

6'3″

7'2″

Crunches (Sit ups)

71

95

71

95

Push-Ups

48

72

29

48

600-Yard Run

1:53

1:35

2:12

1:53
C Store:
Basics shopped in the Cadet Store to get all their supplies needed. The things you thought they needed to bring along but they didn't. Well they bought them!
Uniform Issue and Tailor Shop:
Along with shopping for necessities they went to Uniform Issue and the Tailor Shop to get their new ABUs and Blues!
Dental Clnic:
Everyone has to go get their smiles checked.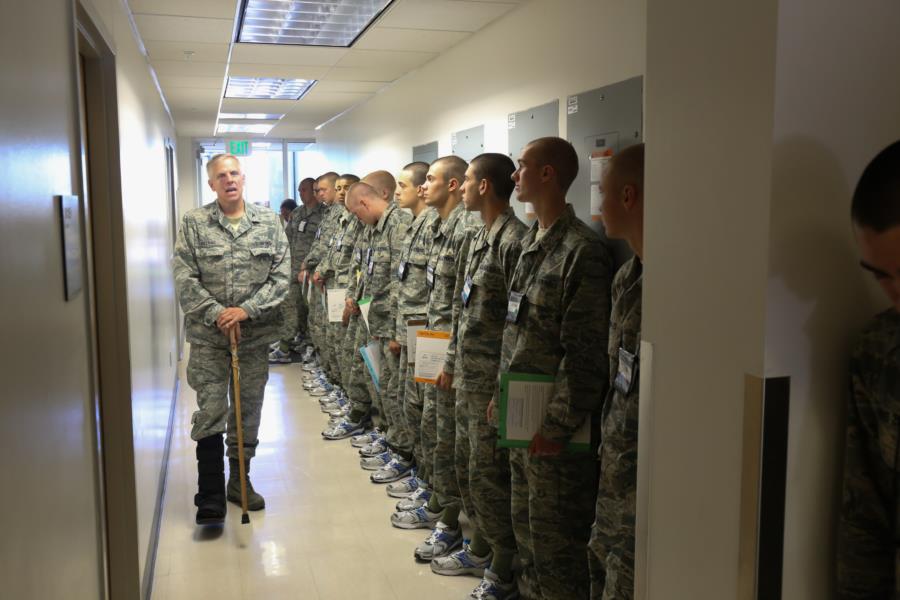 Aquatic Screener:
This is used as a placement for physical education classes in the fall.
Pet the Jet:
They got to see planes up close and talk to the pilots and crew! (You may have seen us share pictures on our instagram from Admissions)
They did all this and more during the last three weeks, so you can expect the next three to be busy!
We'll be back with a blog later to explain where to find pictures now that it's BCT 2!