Texas Night
Last month the Academy welcomed the Texas Parent Clubs, hosting the 9th Annual Texas Night..
Fun Fact: Texas Night started as a dinner at Haps with about 200 Cadets in attendance.
"In those nine years we have had three Sheriffs (couples) lead the event. Eric & Jan Greene from San Antonio (2011-2012). Dr. Peter & Maura Sakovich from Southlake (2013-2015), and this was my wife Anita and my third year (2016-2018) from Mansfield. Anita and I are going to do it again for next year. It is an absolute honor to be able to be a part of this event. Our Cadet graduated in 2017, Reagan Moore. We love it so much we hope to continue with our "Victory Laps" as long as they will have us"
- Terry Moore
Mr. Moore told us that this year's Texas Night was their biggest night ever with 1500 Cadets and their guests, and another 300 for staff and families who came out to volunteer - over 1800 in total. With this many in attendance - it took over an hour and a half to check everyone in! Wow!
The Texas parents cooked up and served BBQ Beef Brisket, Pulled Pork, Sausage, and Tamales.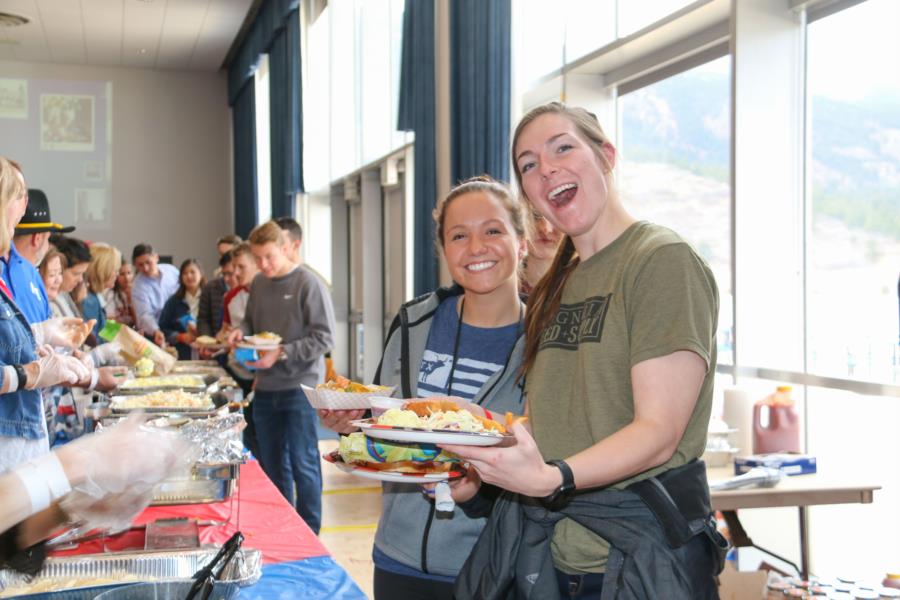 The Cadets had many games they could participate in to win prizes. Including but not limited to, a hula-hoop relay race, blindfolded dress up, talent show, and so many more! Cadets were able to win boots, boots, boots, oh and did we say boots? And life-size Super Hero Cutouts, $1000 in gift cards, and all sorts of Texas kitsch. Enjoy the clips below of our glimpse into a few of the games the Cadets were involved in!
"This is an event for the Cadets. I want to say thank you to all of the Texas Cadets and their Honorary Texan guests for allowing us to plan an evening of home, of fun, and something we hope they will remember until we are able to do it all again next year. Everything we do, say, and plan is intended to give the Texas Cadets and their guests (approximately 1000 guests) a night of being back home in Texas. Something that allows them to step away from the rigor of being a Cadet and enjoy as close to an evening at home as possible. We also want to say thank you to the Academy for allowing us to invade Arnold Hall with 6 of the largest smokers, ever to hit the highways."
- Terry Moore
To view the rest of the pictures from our glimpse into Texas Night go to; Galleries - Extracurricular - Special Events. Or click the link below.
We want to give a big shout out and thank you to Mr. Lemke for sharing his pictures from Texas Night with us!
To view photos provided to us by Mr. Robert Lemke, go to Galleries - Public Gallery. Or click the link below!