Wings of Blue Awards and "Blue Suit" Ceremony
Today the Wings of Blue Parachute Team hosted their Blue Suit Ceremony to honor their graduating seniors and new Wings of Blue team members. This event is a celebration of graduating Wings of Blue members as well as the promotion of the Wings of Green Parachute Team to Wings of Blue.
Keynote address was given by General Jeffrey L. Harrigian. Gen. Harrigian is the Commander, U.S. Air Forces Africa; Commander, Allied Air Command, headquartered at Ramstein Air Base, Germany; and Director, Joint Air Power Competence Centre, Kalkar, Germany. Gen. Harrigian was a previous Wings of Blue team member and he graduated in 1985.
There was a recognition of Seniors and various Awards given to a few outstanding Seniors.
Competitor of the Year - Competitors spend countless hours and holidays away from home all in the pursuit of competitive excellence. Their outstanding results at both US and Collegiate Nationals show the fruits of their hard labor. This year's award winner did whatever it took to compete and help the team, including jumping as part of an all female 4-way team, first PTWOB history, winning 49 medals and breaking 3 national records. She gave up countless holiday leave to compete and train, never ceasing to achieve excellence in competition.
Shaina Smidt
Demonstrator of the Year - Every year, the demonstration team highlights their professionalism at airshows and stadiums across the country to the delight of tens of thousdands of spectators. Many of USAFA's own cadets have been motivated by an appearance of the Wings of Blue at a local event and might not be here were it not for the team. It has been an immensely trying year with COVID shutting down airshows and stadium jumps, but this Demonstrator never let that hinder his resolve. He best embodies the demonstatration team skill and professionalism at their largest and most high visible shows throughout the year.
David Howe
Instructor of the Year - Every one of the team members is an instructor first, and has the responsibility for the safe instruction of their AM-490 students. Team members take fellow cadests with zero skydiving experience and through hard work and expert instruction, have those same cadets jumping out of an airplane in just 4 days. At the forefront of their instructors was this cadet, who commanded mulitple 490 classes and awarded the coveted jump wings to countless of her fellow cadets and classmates. She internalized what it means to be an instructor, showing selflessness and professionalism, often choosing to forego jumping with the team and dedicating her time to teach and mentor AM-490 Students.
Eva Swearngin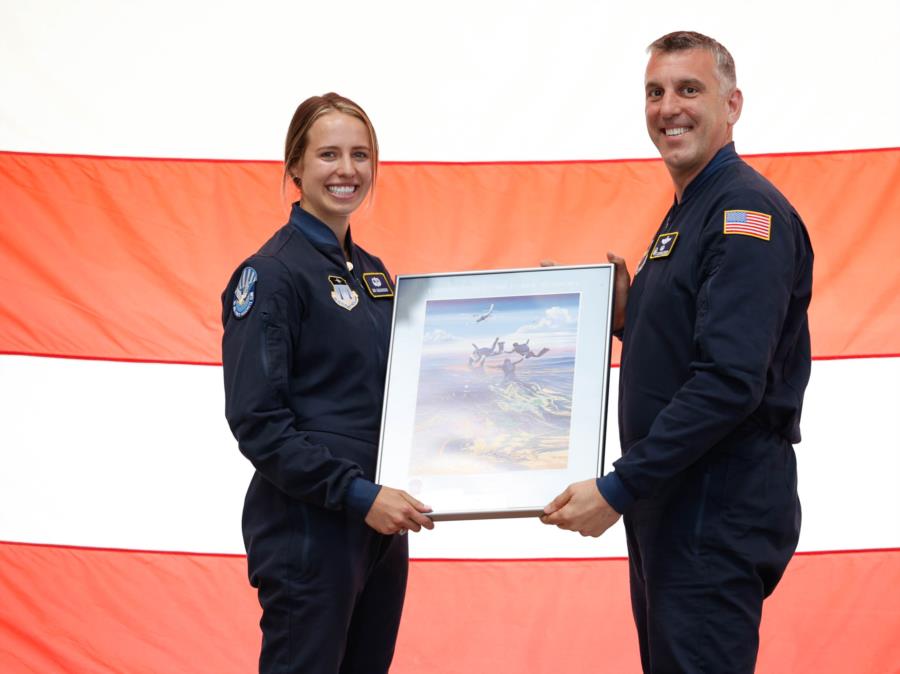 Outstanding Cadet in Parachuting - This cadet demonstrated excellence in both his chosen discipline and his leadership during his entire time on the Wings of Blue. He served as Team Commander fall semester, Superintendent his Junior year, and also Demo team commander. His ability to balance the rigorous schedule of the cadet wing duties, as well as daily responsibilities at the airfield is second to none. He has been exceptional in his parachuting abilities, leadership qualities, and team mentoring. His dedication to the team propelled this senior class to an unimaginable level.
Marcus Ross
Trujillo Award - Presented annually since 1987 to the Overall Oustanding team member. This award is named in memory of Lt. Andy Trujillo - a 1984 PTWOB who died in an aircraft mishap on March 30th, 1986. This award encompasses overall PTWOB performance as an instructor, jumpmaster, demonstrator, competitor, and team contributor. This cadet has shown PTWOB pride and attitude his entire time on the team, and motivates not only his teammates, but staff.
Tyler Daily
It has been a long and trying year for everyone, but especially for the Wings of Green. But they made it through the year and have now earned the honor of receiving their "Blue Suits" and becoming the newest members of the Wings of Blue.
Newest Members of Wings of Blue: Karsten Brown, Haley Brunkal, Zenen Cardenas, Josiah Cole, Colt Crowson, Aiden Diedrich, Gabriel Downing, Madeline Fischer, Charlotte Fitzgerald, Hunter Fujitani, Beck Grasser, Eric Kenes, Baileigh McFall, Isaac Melvin, Micah Pugh, Daniel Simonds, Keane Singleton, Braeden Swanson, Tyler Thatcher, Hannah Thompson, Jason Tilley, and Luke Wojcik.
Congratulations Class of 2021 on your upcoming graduation! And congratulations Class of 2023 on becoming the newest members of Wings of Blue!
To view all photos from today's Blue Suit Ceremony, go to Galleries > Airmanship > Jump. Set photo order OLDEST to NEWEST. Select start page (353-360). Or click on the link below.