Commandant's Challenge
All day Friday the Cadet Wing participated in main events of the annual Commandant's Challenge, which has been going on for 10+ years here at the Academy.
The mission of the Commandant's Challenge is to uphold the cadet standards. In order to inspire men and women to become officers of character and to provide the training required to produce Air Force Officers.
The intent of the Commandant's Challenge is to develop the Air Force Cadet Wing's appreciation for their History and Heritage through commemorative events in honor of both Fallen Americans and USAFA Graduates in order to instill a sense of pride, humility, and reverence in Cadets through purposeful challenges that enhance the "Warrior Ethos". It additionally, provides an opportunity for Cadet Squadron Commanders to carry out their squadron's preparation for Polaris Warrior Training events in order to provide Cadets with a shared sense of responsibility for training.
During the course of the day, Squadrons had to complete several stations and between the all hands on deck we had today with 3 graduate classes (1800+ people) back for their reunions, the WebGuy Team was able to catch a glimpse of some of the squadrons going through one of the stations of the Commandant Challenge.
At the station we caught, each Squadron had to begin and end at the top of the Integrity Ramp on the Tzo. During the event they had to first run a mile down to the parade field, then split into the elements within their squadron and proceed to complete the "Murphy Challenge" (click here to read more about the Murphy Challenge) with a specific number of repetitions and exercises and once that was completed they had to then run a mile back to the Tzo.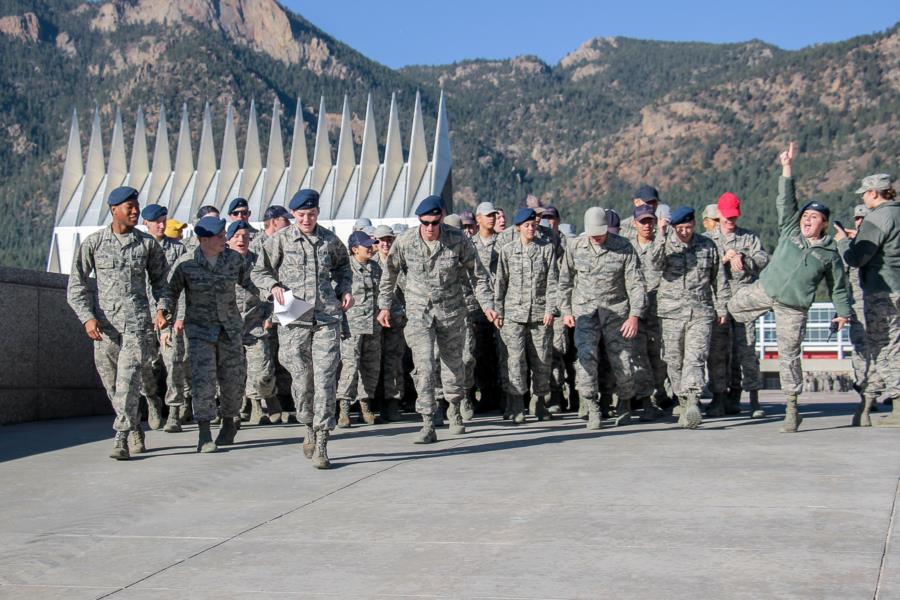 We also got a quick video clip of one of the Squadrons showing their spirit and their honoring of the Military member(s) they were completing the challenge for.
To view the rest of the pictures from our coverage of the Commandant's Challenge go to, Galleries - Military Training - Commandant's Challenge. Or click the link below.