4th Annual "Georgia On My Mind" Georgia Night
Earlier this month the Georgia Parent Club celebrated their 4th annual "Georgia On My Mind" Night at USAFA.
250 Cadets attended the event, with 40 parent volunteers and 10 additional volunteers.
Broken Bones BBQ in Colorado Springs provided the delicious food for the evening. Including; brisket, pulled pork, smoked turkey, baked beans, homemade potato salad, mixed greens salad, and 3 cheese mac-n-cheese.
Pearson Farms, a Georgia company provided buttermilk pecan pies for dessert as well as an variety of Josh & Johns Ice Cream which we have to say, was a delicious combo with the pecan pies!
Swire Coca-Cola of Colorado Springs also provided variety cases of Coke products and sweet tea, lemonade and bottled water were the refreshments for the evening.
Princess Wallace of Connect 4 Events and Entertainment, a local DJ, was on hand to provide the Georgia Cadets and their guests with music and entertainment.
Enjoy the clips below during some of the contests the Cadets had!
Through the generosity of many sponsors, the list of gifts given out through the night is quite extensive:
2 – 2 night stays including breakfast at Crowne Plaza Denver $500 value each
2 – 2 night stays including breakfast at Staybridge Suites Denver $500 value each
$250.00 pair of Tiffany & Co earrings
$250.00 Southwest Airlines gift card
$250.00 Delta Airlines gift card
$25.00 Kinnucans gift card
$50.00 Colorado Mountain Brewery gift card
$25.00 Orvis gift card
Varsity T-shirts with meal vouchers
2 Official State of Georgia flags with certificates
$150.00 gift certificate to Georgia Firearms and Safety Training
13 Nike Dri-Fit T shirts (Atlanta Falcons, Atlanta Hawks, and University of Georgia)
Hall of Famer Don Sutton autographed baseball
2 Travel Humidors and Cigars
8 Six packs of Share a Coke with a Georgia Cadet Mini Coke Bottles
Echo Dot Plus with $25.00 Amazon gift card
4 - $50.00 REI gift cards
Lenovo Jedi Challenge Virtual Reality Headsets
2 Yeti Ramblers with Starbucks gift cards
10- $20.00 Waffle House gift cards
13 - $25.00 Amazon gift cards
2 - $25.00 Visa gift cards
$75.00 Walmart gift card
5- $25.00 Starbucks gift card
2 - $25.00 Target gift cards
4 - $25.00 Shell gift card
$25.00 Chipotle gift card
$25.00 Panera gift card
$25.00 Red Robin gift card
$25.00 Papa Johns gift card
2 - $25.00 I-tunes gift card
10 – 24 oz. AF Tervis Water Bottles
Men's Coca-Cola Socks
Women's Coca-Cola Socks
2 - $25.00 Regal Movie gift cards
2 - $25.00 Google Play gift cards
Autographed Colorado Rockies Charlie Blackmon authentic baseball
$50.00 Marriott gift card
The gift cards given out were in excess of $2100, wow!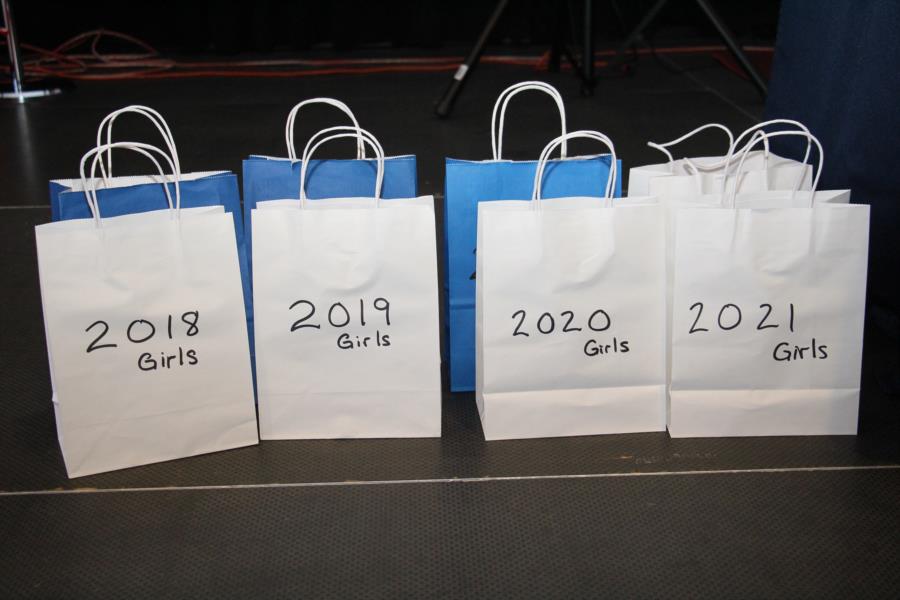 Class Gifts included:
C1C
Medium Big Green Egg Package with $985.00 retail value
2 Yeti Coolers with $25.00 Visa cards and Georgia decals
C2C
Rayban Aviator Sunglasses
Rayban Foldable Wayfarer Sunglasses
C3C
Party Shirts by Jill gift certificate and Sterling Silver AF cuff links
Party Shirts by Jill gift certificate and Pandora earrings
C4C
G shock watch
Baby G shock watch
Each cadet was given a gift bag with a custom designed baseball cap and long sleeve t shirt, Be Our Guest Chic Fil A gift card, Georgia peanuts and Oh Sugar chocolate chip cookies.
Big thank you to the Georgia Parent Club for inviting us out to Georgia Night, we can't wait to see them again next year!
To view the rest of the pictures from our glimpse into Georgia Night go to; Galleries - Extracurricular - Special Events. Or click the link below.