Chicago Night!
USAFA welcomed the Northern Illinois Parent Club last month with their 10th Annual Chicago Night.
Fun Fact: This State Night started it all and is the longest running one - starting with a few parents who were going out to visit their Cadets and decided to put some Chicago food in their suitcases. Over the years we're so happy to see other States joining in and giving a little piece of home to their Cadets!
Each Cadet was given a goodie bag of treats from Chicago Companies - Lemon Heads from Frarrer Pan, Wolds Famous Chocolate Bars, Wrigley Gum, and Chicago Mix Popcorn from Naper Nuts and Sweets.
The food served for the evening consisted of a ton of Giordano's Deep Dish Pizza, Chicago Style Hot Dogs, Italian Beef, and Sweet Baby Rays. But let's not forget dessert! They had Portillo's Famous Chocolate Cake, Gourmet's Delight's Cheesecake, and Fleckenstein's Bakery Chicago sports themed cookies too! A total of 249 Cadets were in attendance throughout the evening, as well as the 20 Illinois Parents and siblings of Cadets who came out for the event.
At each table they had a Chicago themed Word Find games that they could complete and Cadets had the opportunity to win prizes throughout the evening through a raffle and answering questions.
But we can't forget the big event of the evening however, the Cornhole Tournament!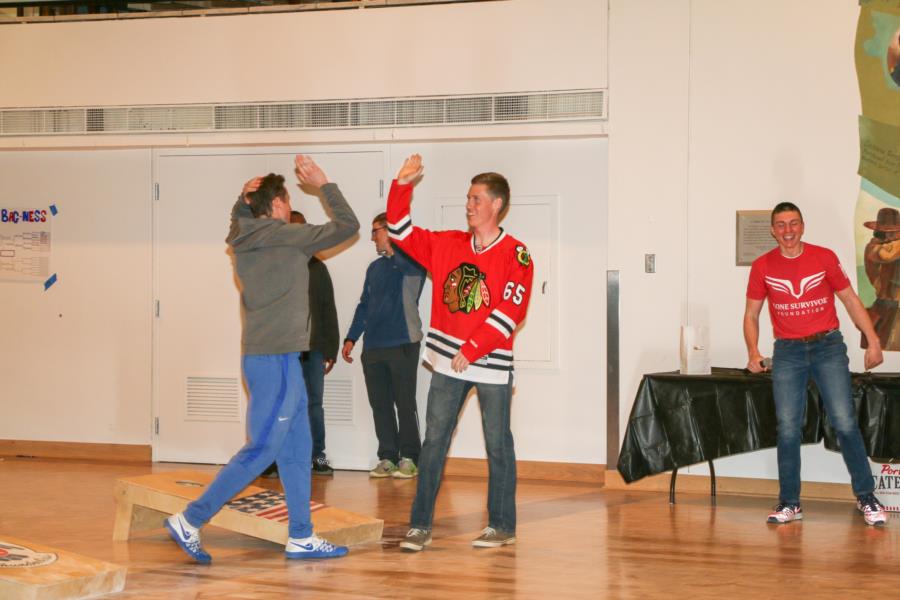 Here's a list of all of the prizes that Cadets won!
- Uno's Pizzeria and Grill - 200, 10% off discount cards
- 4 Movie Gift Certificates to any AMC Movie Theater
- Chicago Bears Football signed by Eddie Goldman
- 1 Logitech C920 HD Webcam
- 1 Cannon EOS Rebel SL! Digital SLR with an 18-55 mm Lens
- 4 Chicago Cubs 2016 World Series Champions Shirts
- 3 $10 gift cards from BullDog Ale House
- 2 Chicago White Sox Lower Box Ticket certificiates
- 2016/2017 Chicago Bulls Official Yearbook
- 2 Chicago Bears autographed pictures of the players
- 6 Chicago Wolves game tickets
- Chicago Bears mini helmet signed by Eddie Goldman
- 4 $25 gift cards for Portillo's
- 10 $35 gift cards for Paintball Explosion
- $50 gift card for the Cheesecake Factory
- 4 $10 gift cards for Panera
To view the rest of the pictures taken at Chicago Night go to; Galleries - Extracurricular - Special Events. Or click the link below.