2022 Wings of Blue Awards and 'Blue Suit' Ceremony
Yesterday, the Wings of Blue Parachute Team hosted their Wings of Blue Awards and Blue Suit Ceremony to honor their graduating seniors and new Wings of Blue team members. This event is a celebration of graduating Wings of Blue members as well as the promotion of the Wings of Green Parachute Team to Wings of Blue.
Keynote address was given by Lt Col (ret) Aldru "Dawg" Aaron. Lt Col (ret) Aaron is a 1988 graduate from the United States Air Force Academy. Following graduation, he attended pilot training at Williams Air Force Base where he was selected to remain as an instructor. He then transitioned to the B-1, where he served as an aircraft commander and instructor. in 1998, Lt Col Aaron transitioned to flying B-1's in the Kansas Air National Guard and in 1999 he also began flying as a United Airlines Pilot. Following the tragic events of 9-11, Lt Col Aaron returned to active duty and served as an Air Liaison Officer with the 82nd Airborne where he led forces in Al Fallujah Iraq and earned the Bronze Star.
Following his combat tour, Lt Col Aaron was selected to join the United States Air Force Parachute Team where he served from 2005-2010, culminating as the Commander, Air Force Senior Reserve Officer Training Corps for the Houston area, including oversight of programs at Rice University, the University of Houston, and the University of Saint Thomas, among others. Lt Col Aaron then retired in December 2013 and rejoined United Airlines. Following his retirement from the military, Mr. Aaron formed the A.T. Aaron Law practice.
There was a recognition of Seniors and various Awards given to a few outstanding Seniors.
Competitor of the Year - Competitors spend countless hours and holidays away from home all in the pursuit of competitive excellence. Their outstanding results at both US and Collegiate Nationals show the fruits of their hard labor.
Joe secured dozens of medals for the Wings of Blue competition team legacy, and he did it with a humble and serving attitude. Among other achievements, his dedication helped his mixed-way formation team (AF Orion) place 1st at the 2020 Inter-Service Academy meet, 3rd in the advanced dive pool at the 2021 US Nationals, and 1st at the 2021 Collegiate Nationals. Furthermore, he helped his 6-way speed team (AF Dragons) place 2nd at the 2021 Collegiate Nationals and he also individually placed 1st in Sports Accuracy for the Master's Division at the 2021 Collegiate Nationals. With these accomplishments and many others Joe was prestigiously named Most Competitive Competitor at the 2021 Collegiate Nationals. Joe gave up countless holidays to compete and train, never ceasing to achieve excellence in competition.
Joe Cartlett
Demonstrator of the Year - Every year, the demonstration team highlights their professionalism at airshows and stadiums across the country to the delight of tens of thousands of spectators. Many of USAFA's own cadets have been motivated by an appearance of the Wings of Blue at a local event and might not be here were it not for the team.
With airshows and demonstrations returning to normal after COVID, the demonstration team has adjusted and stood up to the challenge of performing at an incredibly high operational tempo with little to no continuity from past years. Parker has performed in 12 demos over the past two years and showcased his skills and professionalism to millions of people at some of the largest and most highly visible shows around the world.
Parker Garrison
Instructor of the Year - Every one of the team members is an instructor first, and has the responsibility for the safe instruction of their AM-490 students. Team members take fellow cadets with zero skydiving experience and through hard work and expert instruction, have those same cadets jumping out of an airplane in just 4 days.
Matt commanded multiple Jump 490 classes and has awarded the coveted jump wings to countless numbers of fellow cadets. He internalized what it means to be an instructor, showing selflessness and professionalism, often choosing to forego jumping in order to dedicate his time to teaching and mentoring our AM-490 students. Furthermore, he gave a world class wings speech that none could rival, to the students on their 5th and final jump.
Matt Blois
Outstanding Cadet in Parachuting - This award recognizes a cadet with exceptional parachuting abilities, leadership qualities and dedication.
Corey demonstrated excellence in both his chosen discipline and his leadership during his entire time on the Wings of Blue. He served as Team Superintendent the spring semester of his Junior year and Team Commander during the Fall semester of his Senior year. His ability to balance the rigorous schedule of the cadet wing duties, as well as daily responsibilities at the airfield were second to none. He has been exceptional in his parachuting abilities, leadership qualities, and team mentoring, and his dedication to the team propelled the senior class to new heights.
Corey Eisert-Wlodarczyk
Trujillo Award - Presented annually since 1987 to the Overall Oustanding team member. This award is named in memory of Lt. Andy Trujillo - a 1984 PTWOB who died in an aircraft mishap on March 30th, 1986. This award encompasses overall PTWOB performance as an instructor, jumpmaster, demonstrator, competitor, and team contributor.
James has shown PTWOB pride and attitude his entire time on the team and motivates not only his teammates, but staff as well.
James Chase
The Wings of Green team members have worked hard this past year acquiring the required number of jumps to become a jumpmaster, as well as learning how to become instructors for the Jump AM-490 classes they will beginning teaching this summer. The newest Wings of Blue Team members are:
Georgia Beutler, Cole Bitting, Chaz Castillo-Wilson, Chase Clemence, Margaret Diruggiero, Andrew Ferkany, Lauren Laduque, Benjamin Lee, Nicholas Marconi, Margaret Marlow, Luke Palalay, Bryce Parsons, Halle Pelletier, Payton Rawson, Daniel Smith, Jack Treinish, Alexis Tri, Gabrielle Wilson, Ethan Wipf, and Nicholas Zigrosser.
There are some new members who were unable to attend the ceremony. They are: Luke Anderson, Elizabeth Flynn, and Brock Holmgreen.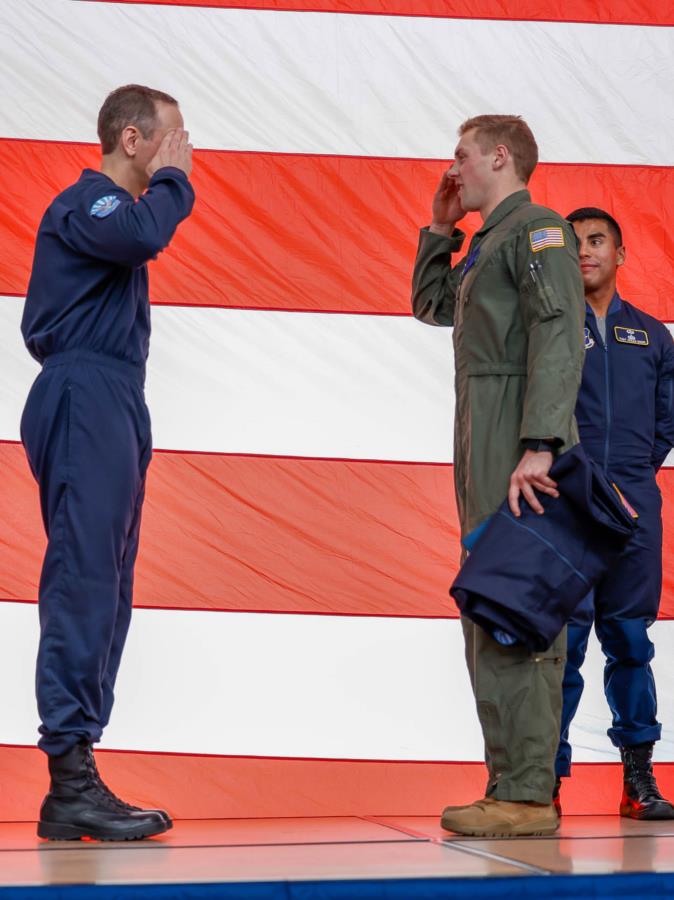 Congratulations Class of 2022 on your upcoming graduation! And congratulations Class of 2024 on becoming the newest members of Wings of Blue!
To view photos from 2022 Blue Suit Ceremony, go to GALLERIES > Airmanship > Jump. Set photo order OLDEST to NEWEST. Select your start page (801-825). Or click on the link below.
***Photo order must be set OLDEST to NEWEST for the link to take you to the correct start page.
2022 Wings of Blue Awards and Blue Suit Ceremony pgs. 801 (top of page, third row down)