Soaring T and M Day
it has been a real challenge the past two weeks for Soaring AM-251 to get students flown with most of M and T days being cancelled due to weather. This week only one go of T Day happened and that was on Wednesday morning with only two cadets getting to fly. Thursday was an M day and the weather cooperated and they were able to fly a full morning of 251 students. Webguy will post what was captured so far and if time and weather allow, we will try and capture T Day if possible. No guarantees or promises though.
*** Note: There was a lot of traffic on the runway on T Day with tow planes, center runway launches, and the twin otter (Jump plane) taxing through and WebGuy was not able to get across the runway to photograph the two cadets in AM-251 so photos are taken from a distance across the runway.
The 94th Flying Training Squadron conducts more than 20,000 training and competition glider sorties (flights) each year with the focus being on developing officers, leadership and character. There are also Instructors getting flights to keep current or doing upgrades. Most instructors are cadets, but there are also Active duty or Reserve that instruct as well.
During the summer before their third-class year, they can enroll in Basic Soaring (AM 251), which consists of 14 glider sorties with the opportunity for a solo flight (depending on proficiency). Approximately 330 cadets participate in the Basic Soaring Course. Basic Soaring graduates are eligible to apply to become Cadet Soaring Instructor Pilots (AM 461). Cadet Instructor Pilots conduct 95% of all glider flight instruction and go through a yearlong upgrade program during their third-class year to become Instructor Pilots (IPs). This earns them their G-Wings and the title of "Youngest IPs in the Air Force". Some Cadet IP's compete nationally in aerobatics and sailplane racing team competitions. The squadron operates 24 sailplanes (gliders) with 7 tow aircraft. If cadets are unable to do soaring 251 during the summer, they can try and get selected for fall or spring semester during the academic year.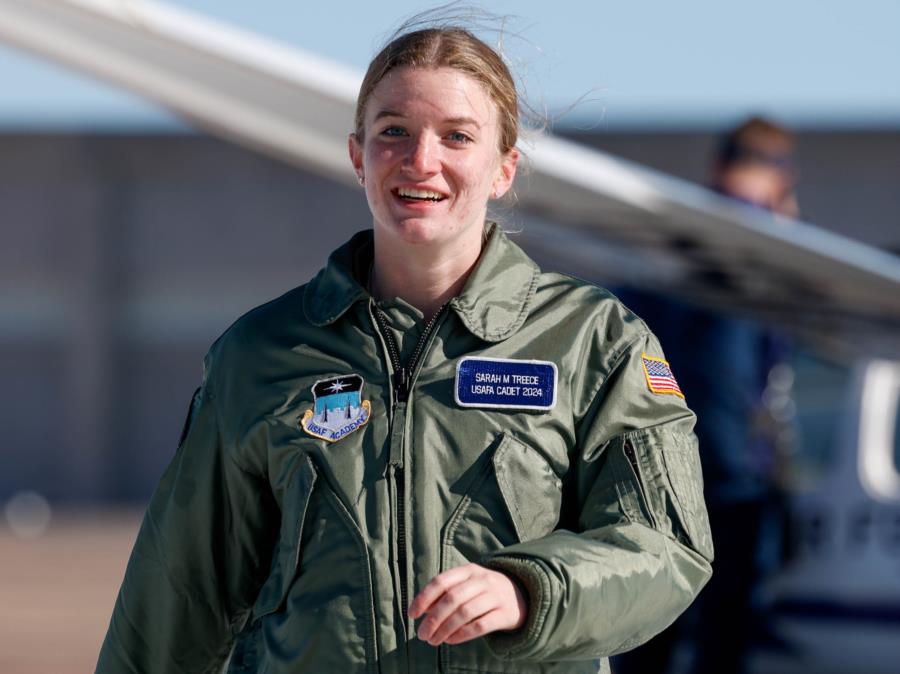 The glider is inspected prior to flight and flight plans are discussed between Instructor and student. Students are seated in the front of the glider with the instructor directly behind them. Student and Instructor both have a full set of controls which allows for hands on learning and instruction.
Once the glider is positioned on the runway, the rope from the tow plane is connected to the glider. The rope is inspected by the student and IP and hand signals are used to let the student and IP know that the plane is hooked up properly and ready for takeoff.
The synthetic turf landing field is 430 feet wide and 3,000 feet long and is thought to be the largest single installation of synthetic turf in the world. Thjis is normally where the gliders would land, but due to the big snow storm last week, the synthetic turf field was still mostly covered in snow. So landings took place on the asphalt runways. And no matter where they land, they have to be towed back to the take off area.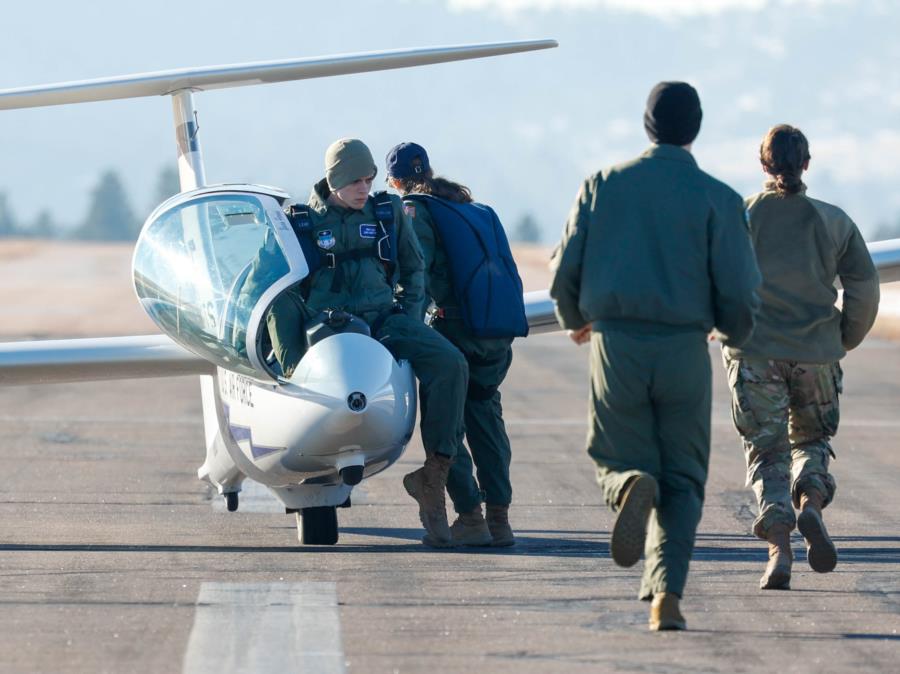 ***Note: As you go through the photos, you may notice that there are photos of some students in the cockpit of the glider while others do not. This is due to where they get into the glider for hook-up and take off. There is a line that the glider is pulled up to for hook-up and take off. Only limited staff is allowed at that line (the air marshal, wing runner, and the person hooking up the glider). If they get into the glider at that location, WebGuy cannot be there to photograph. If they get into the glider prior to that point and are then later pulled up to the hook-up point, we are able to get photos of them in the cockpit. Just an explanation in case people wonder at the differences in photos.
To view the photos from this Soaring AM 251 session, go to GALLERIES > Airmanship > Soaring. Set photo order Oldest to Newest and then select start page (116-132 ). Or click on the links below.
***Photo order must be set OLDEST to NEWEST for the links below to take you to the correct start page.
Soaring AM-251 Spring 2022 T Day pgs. 116 (top of page, second row) - 119 Soaring T Day
Soaring AM-251 Spring 2022 M Day pgs. 119- (top of page, third row) - 132 Soaring M Day