Minnesota Night
USAFA welcomed the Minnesota Parent Club last month with their 1st Annual Minnesota Night. Every guest received a "Home" gift bag filled with an Electronic Cleaning Cloth, Pens, Barrel O'Fun Chips, Wiley Wallaby Licorice, Pearson's Candy, Rocky Mountain Chocolate, $10 Subway gift card, and a Minnesota State Fair Magnet.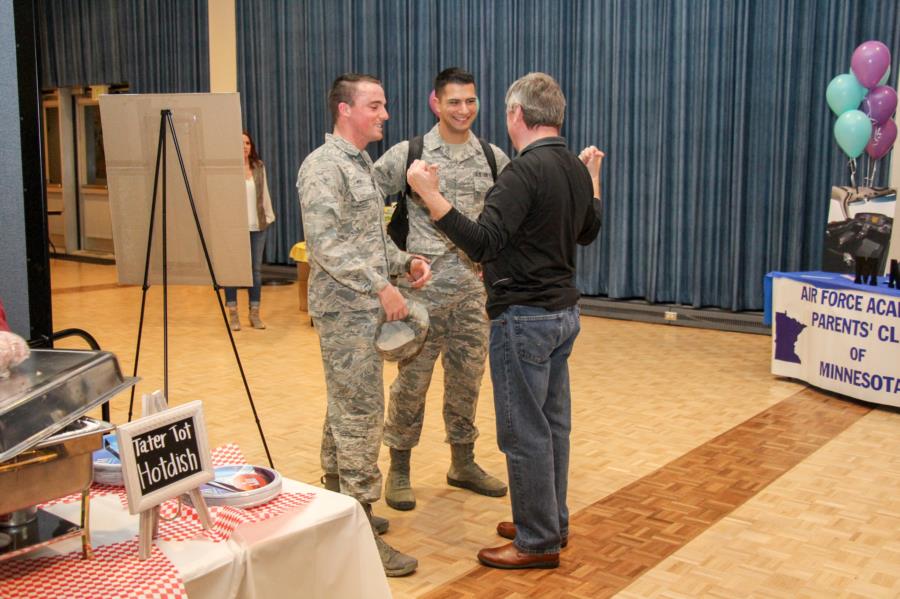 Photo Credit: (Above) Provided by the MN Parents Club.
The Cadets got to enjoy an array of foods for the evening which included a Tator Tot Hotdish, State Fair Corn Dogs, State Farm Cheese Curds, Wild Rice Soup, Corn on a stick, Giant Pickle on a stick, Veggies & Ranch, Lefse, Sweet Martha's Cookies, Pearson's Chocolates, Rocky Mountain Chocolates, Barrel O'Fun Chips, Kenny's Candy – Wiley Wallaby Licorice and Coke & Pepsi. Wow!
Parents also provided "to go" containers for anyone to take any leftovers back with them, or to make dinner plates up for any of their friends or people in squad.
Cadets got to participate in games like Duck, Duck, Grey Duck and the MN Parents quizzed the Cadets and their guests throughout the evening on their knowledge of Minnesota based questions.
Prizes won throughout the evening included;
Beats Headphones
Brookstone Mini Projectors
Gift Cards – Target, Delta, REI, On the Border, Texas Roadhouse, BWW, Fandango, Amazon, Chick Fil-A
Super Bowl (hosted in Minnesota this year) t-shirts, sweatshirts, hats, mugs
Bold North t-shirts & hats
Minnesota Vikings "Duck, Duck, Gray Duck" t-shirts
Minnesota Vikings T-shirts
Minnesota Vikings Stefon Digs "Minnesota Miracle" signed picture
Minnesota Twins T-shirts & hats
Minnesota Twins player signed baseballs
Minnesota Timberwolves Tickets
Minnesota United T-shirts
Minnesota Wild T-shirts, sweatshirts & hats
Minnesota North Start T-Shirts
Minnesota Gophers Hockey t-shirts
Minnesota State Fair buttons, magnets, posters, pens, T-shirts
Minnesota "Home" T-Shirts, Sweatshirts
Aircraft Puzzles
Aircraft Pictures
Computer Backpack
Fishing Poles
Tempercraft Airforce Bottles
Waterproof wireless speakers
To see the full donations list click the document below!
We look forward to seeing the Minnesota Parents Club again next year for their 2nd Annual Minnesota Night!
Photo Credit: (Above) Provided by the MN Parents Club.
To view the rest of the pictures from our coverage of the Taste of Philly Night, go to Galleries - Extracurricular - Special Events. Or click the link below.
Thank you to the Minnesota Parent Club for sharing pictures with us as well! You can find their photos in the Public Gallery section by clicking the link below!