DMV Night
No, the Department of Motor Vehicles did not hold a dinner at the Academy but the Tri-State Parents' Association of Washington DC, Maryland and Virginia did! There are approximately 463-cadets from DC, MD and VA area including the International Cadets since their embassies are all located in DC. Approximately 675 cadets including the DMV Cadets and his/her 1-guest RSVP-ed for the Inaugural DMV State Night.
Inspired by all the other state nights that their cadets had attended, The Tri-State Parents' Association felt the nation's capital and their Tri-State region needed to share their rich history, culture, customs and cuisine with their cadets and friends. They also wanted to support their DMV Cadets with a taste and the feeling of home. They partnered with their local AOG affiliate, the Air Force Academy Society of Washington DC, and joined the two regional parents' associations together to show support for all the Cadets from the DC, MD & VA area.
They had approximately 40-Parents from the DMV area, 6-8 DMV PCS-ed now in CO parents, 13- Starbucks Military Appreciation Volunteers, 10-Kiowa HS National Honor Society Volunteers (Kiowa, CO), Lutheran Church Youth Group and Ladies Group (baking cookies), 1- AFASW AFA alumna, and numerous friends of USAFA and AF families came together to make the event happen.
They served pulled pork (VA fav) beef brisket (Cadet fav), ham (VA agricultural product), Mac & cheese (Cadet fav), baked potato casserole (Cadet fav), Caesar salad, fresh vegetable trays, fresh fruit salad, real MD Hot Crab Dip (MD dish), peach and apple pies (MD & VA orchards), chocolates from chocolatier in Charlottesville VA, and assorted homemade cookies.
They sought the support of many local DC, MD, & VA businesses, asked parents, friends & alumni to sponsor tables/cadets, and sought prizes that reflected our theme of "A Taste of Home" from their greater military family DMV network.
Each Cadet was given a Care Package Gift Bag with Hubs VA peanuts, UTZ crab chips, Mars candy bars, passes to gyms to work out while home or stationed in places away from USAFA during summer training, and typical military care package items.
Their bigger prizes were generous donations from our DMV USAFA families: a week at a USAFA family's beach house, a week at a USAFA family's Orlando FL house, a weekend at a ski resort, a weekend at a golf resort, a weekend at a DC/MD hotel, a tour of Colonial Williamsburg, and numerous other items that are DC, MD, and VA merchandise items.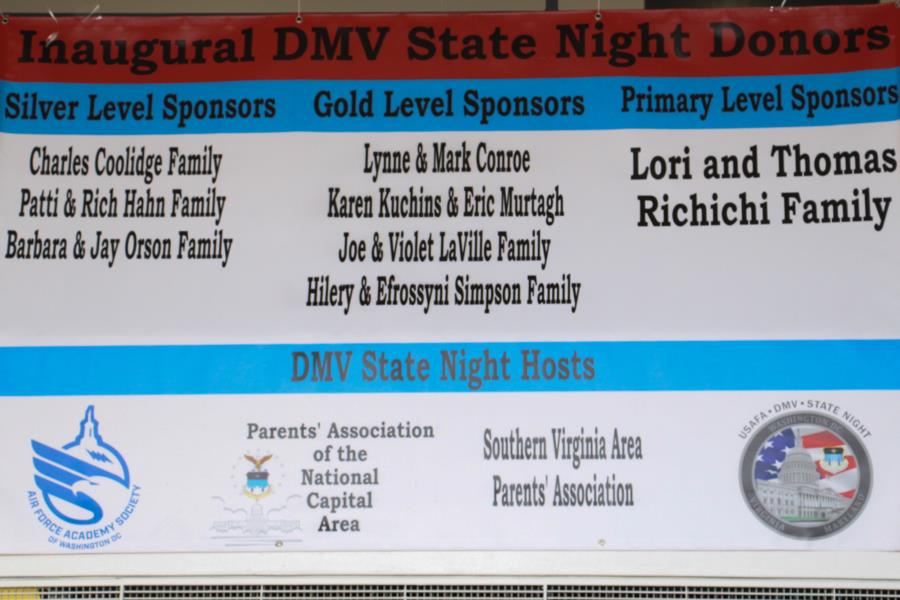 One of the big hits of the night was The Go Team Therapy Dogs, petting zone area.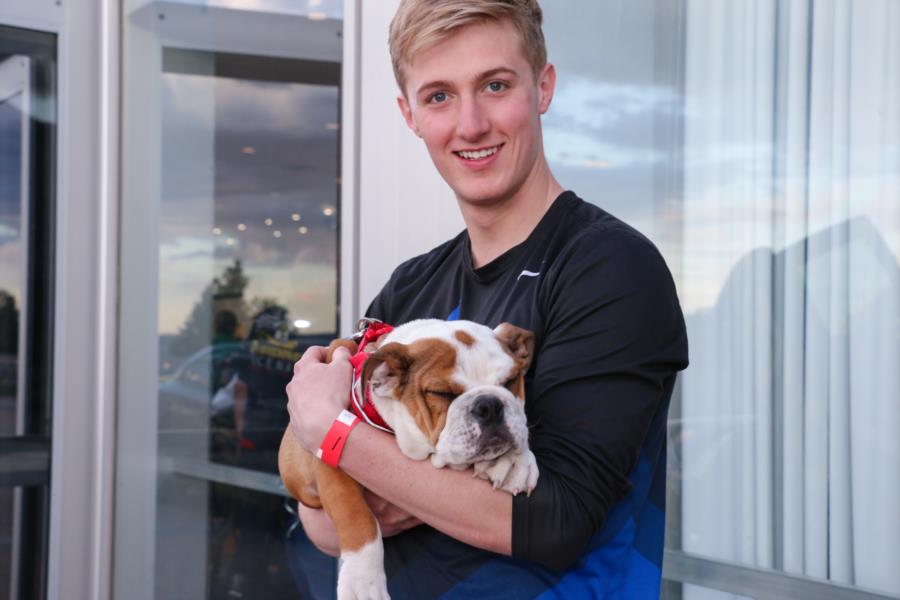 The parents of the Parents' Association of the National Capital Area, which serves families in the DC, MD, and Northern VA area, sought to work with the Parents' Association of the Southern Area of Virginia, and with the AFA Alumni in the DMV area to make sure that the cadets know they are part of a wonderful support network not only in the military but even in their home states. Working together as a Tri-State area so closely tied to the US government and with their USAFA alumni has been rewarding and inspiring. They hope that their Cadets felt the love and support of their DMV extended USAFA & Alumni family and will be able to share the culture, customs, history, and cuisine of their states with their friends from other states and countries.
To view all the photos from the event go to; Galleries > Extracurricular > Special Events or click on the link below.